February 22, 2021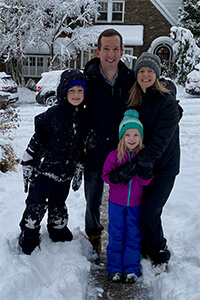 What are you currently doing, professionally and/or personally?
I'm an Assistant Professor of Pediatrics in the Division of Newborn Medicine in the University of Pittsburgh School of Medicine Department of Pediatrics. I run a research laboratory that uses molecular genetics and bioinformatic techniques to better understand the interactions between bacteria, pregnant mothers, and newborn babies. The goal of this work is to develop better preventative and treatment approaches to avoid the worst complications of bacterial infections in pregnancy and early newborn life. I also serve as an attending physician in the neonatal intensive care units at Children's Hospital of Pittsburgh and Magee-Women's Hospital of UPMC, where our teams care for newborns and infants with complications of prematurity, congenital malformations, and other neonatal illnesses. I teach medical students, residents, neonatology fellows, and research scientists training at the University of Pittsburgh and affiliated institutions.
How did you get there? Where did you attend college? Are there some career moves or other key experiences or relationships that have inspired you?
I attended college at Yale University, where I benefitted from a true liberal arts education that let me study broadly, with very few constraints. I did not enter college planning a career in medicine or science. (I thought I'd be an English major!) I think having the freedom to explore many topics allowed me to find a calling in medicine that I hadn't expected. It was a result of realizing that I wanted a career that combined reason and science with humanitarian goals. Read More