March 2, 2023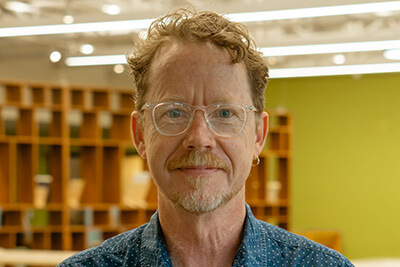 What memories do you have of your first days at MPA?
At the time, I was asked to take on the Makerspace as an interim coordinator and teach Middle School seminar with Michael Moran (fantastic co-teacher!) and my Upper School classes. My biggest and best memories are of all the support I received from my colleagues as I stepped into formal PreK-12 education from an informal education at a museum. The faculty and staff were just amazing at creating a super welcoming and positive environment during the end of virtual education back to in-person school.
What's the best thing about being a teacher at MPA?
Believe it or not, I spent over 30 years at the Science Museum. The only way you could do that is if you love your work and the people you work with. The MPA community is pretty wonderful–adults who care about children and create a positive learning environment–and do the same with each other as peers.
Describe your typical day. 
Hmm. A typical day might be a bit difficult–I try to put up a schedule of what I am up to, and who and what I am working with, on the whiteboard every day, and it seems to change every single day. It's a beautiful thing, but the continuity is that I get to propose and support students coming in to explore and realize their ideas with a wide range of materials and tools. Here's a snapshot: as I write this, there are students who are working on designing T-shirts and printing them for a school team. A little bit ago, I had a number of students working on designing, painting, and constructing narrative settings for characters they had created a story about. Students come in to print in 3D, repair their backpacks by sewing them when they rip, and learn how to use a hot foam cutter or airbrush. So, a typical day is one where I work to support the creativity of the MPA community and respond quickly to the ideas of our faculty and students. Read More