February 11, 2020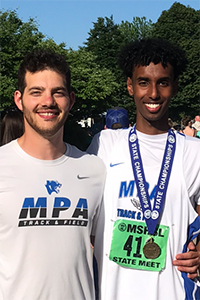 Meet 2019-20 Alumni Association Board member Nate Bander '09!
MPA Class of 2009 alum Nate Bander is MPA's admission outreach coordinator and Upper School admission coordinator at Mounds Park Academy. He also coaches boys basketball and the varsity track and field and cross country teams at MPA. After attending MPA K-12 and the University of Minnesota, where he majored in Communications Studies with a Spanish Studies minor, Nate moved to Baza, Spain and worked in an adult language academy as an English teacher.
"The single biggest impact that my MPA experience had on me was inspiring me to learn about the world. MPA is a wonderful, diverse community of parents, students and educators who place a high value on education. I feel prepared to speak about the greater world, travel to faraway places, digest complex theories and thrive as a global citizen. MPA connected me to the broader world."
But Nate's MPA moments did not stop as a student and alumni. In fact, he didn't make one of his fondest memories until coaching in 2019.
Nate recalls, "I first met Yahya Madar (Class of 2019) when he came out for my ninth grade basketball team. That season, I benched him in a game and he almost quit the team." But, Yahya persevered and in 10th grade, he came back out for the basketball team. He also tried high jumping in track and field for the first time, and something clicked. Read More