September 15, 2020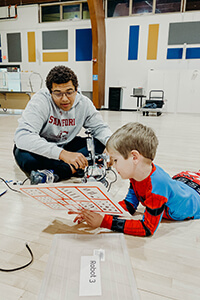 How many years have you been a student at MPA?
I came to MPA in the fall of 2019 as a ninth grader.
What do you love about MPA?
I love the diversity and the classes. The teachers are so kind and supportive and truly want you to grow toward your goals and will help guide you there. I love the community and that as a tenth grader, I have the chance to be with Lower School kids or work with Middle Schoolers as they make their way toward the Upper School.
How are you encouraged to dream big and do right at MPA?
My math teachers encouraged me to pursue my goal of jumping ahead into accelerated math. And this past summer, I finally achieved that. What started as a big dream developed into a possible goal that is now a reality. This would not have been possible if it weren't for the support of the teachers at MPA who encouraged me to reach this goal. Not only do I now feel more confident to reach my own goals, but I am encouraged to do right by helping others reach their goals as well. Read More