February 2, 2023
Dear MPA Community,
We want to share with you that four of MPA's longest-serving faculty members have decided to retire at the end of this school year: visual art teacher Lisa Buck, music teacher Mari Espeland, librarian Nancy Lage, and third-grade teacher Renette Stinson. Combined, they have served the MPA community for 140 years, and for that, we are exceedingly grateful!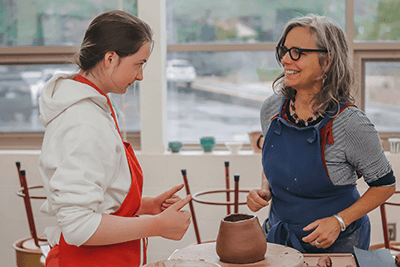 Lisa Buck came to MPA in 1984 as a Middle School visual arts teacher. She co-created the MPA K-12 visual arts curriculum with founding teacher Karen Rossbach. Over time, they honed the program in depth and breadth, and Ms. Buck designed a multilevel ceramics program in the Upper School. She has taught drawing, painting, sculpture, fibers, design, printmaking, and ceramics.
From 1998-2000, Ms. Buck taught overseas at the American School in Casablanca, Morocco, and then returned to MPA. While teaching, she also built her career as a potter. Ms. Buck shares, "It has been a delicate balance of commitment, hard work, and passion. I have longed for a time when I could be full-time in my own studio, and now, that is exactly what I am going to do."
She adds, "I have given my whole-hearted self to helping students see their beautiful potential as young artists and helped to build an outstanding program." I am deeply grateful for the vision, creativity, and passion Lisa has brought to MPA over her long service to the school. Students have benefitted from having a gifted art educator and an accomplished working artist in the same person; she will be very missed.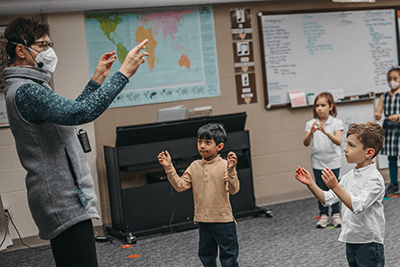 Mari Espeland came to MPA in 1989 and built the Lower School music program upon the Orff Schulwerk approach. She established the Lower School Art and Music Show with Karen Rossbach and incorporated distinctly American music traditions, such as jazz, and world music through drumming.
Ms. Espeland shares, "This environment has allowed me to grow as a music educator and collaborate with colleagues to benefit students more than I could have ever dreamed possible when I began teaching at MPA in 1989. Music education has been much more than a job or even a career for me. Rather, it has been a calling."
After 33 years of boundless passion for music and dedicated service to MPA, I have profound respect and deep appreciation for the program she built, the many, many children she has inspired, and the beauty she has brought to their lives and to MPA.
Nancy Lage became MPA's librarian in 1986 and has served the school for 37 years. She developed the PreK-12 library program and managed an extensive 23,000-volume book collection, 30 academic databases, and a dynamic library website to support a diverse PreK-12 curriculum. She shares, "A joy-filled part of my job at MPA has been matching students and faculty with books and resources that inspire them to think, reflect and grow." She is well-known for being able to find the perfect next book for readers of all ages. Read More