May 28, 2021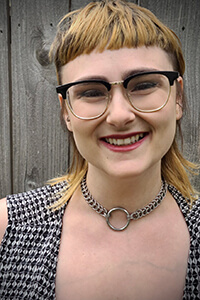 Congratulations to Logan Sand '08 on winning MPA's Alumni Association Award for the 2020-2021 year!
What are you currently doing, professionally and/or personally?
I am program manager for the Seeing and Exploring Life's Future (SELF) Program at Lutheran Social Service of Minnesota. We do comprehensive, medically accurate, and culturally relevant sex education all over the Twin Cities. I've been with LSS since 2017 when I came back to MN after graduate school. I started as program coordinator and I've been managing the program since 2019.
The majority of my work is with middle school students but we also work with youth in the community who are at 'high risk' for sexual exploitation/unplanned pregnancy/STIs (in other words, folks who would really benefit from sex education). I'm particularly proud of the fact that our program is one of the few in the area providing sex education to individuals with cognitive and intellectual disabilities (with content specifically tailored to that population). We always seek to provide our education through an anti-oppression lens. Good sex education is anti-racist, gender inclusive, and honors cultural experiences and worldviews; I like to think that SELF does really good sex education. Read More