January 30, 2023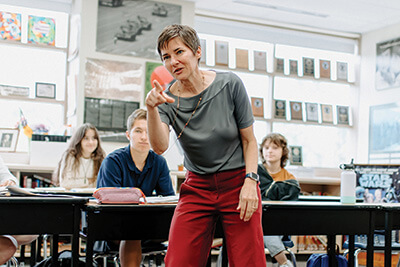 By definition, a free spirit is an independent person. And at MPA, we teach kids to think independently–by setting the example for them. MPA teachers are free spirits themselves, equipped with a community of support behind them. When asking teachers what their favorite part about teaching at MPA is, we often hear a trait that they say is very unique to MPA: the freedom of teacher autonomy.
There's a lot that makes MPA teachers amazing, memorable, and impactful. But their autonomy to be creative and collaborative allows them to not only adjust their lessons to fit the ever-changing world, but to ensure that their students are enjoying what they're learning. In MPA's early years, the first batch of teachers shared a common vision around creating a different type of school and learning environment for children. Our founding faculty wanted to teach at a school that would foster their own collaborative spirits as well as their students'. They began working together to design a cohesive curriculum, and this early emphasis on collaboration among faculty set the foundational groundwork for teacher autonomy at MPA today.
Free Spirits Know Their Students
Teacher autonomy applies to all disciplines at MPA and is highly valued by teachers and administrators alike. In order to work, it relies on trust and the understanding that MPA teachers are professionals who know their students best. Knowing our students is one of the hallmarks of a Mounds Park Academy education, stemming from our commitment to small class sizes.
Upper School biology teacher Mitch Thomsen can attest to this. He appreciates that each lab, project, and lesson can be customized to fit his students' highest possible growth and potential. "The small size makes it easier to communicate with colleagues and to help ensure that no student gets lost in the shuffle," he remarks. "I like that I am in charge of my budget and the chance to obtain materials, in the right amounts, to maximize the learning from each lab." Read More