May 22, 2023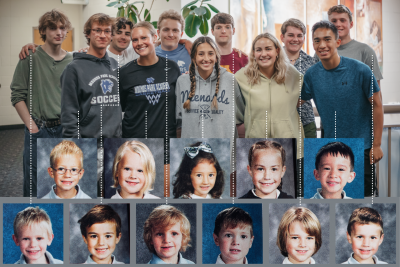 In the spring of 2011, some of the littlest dreamers in the school were wrapping up their first year together. These members of the Class of 2023 were sprinting around the track and testing their throwing skills at Track and Field Day, graduating from kindergarten, and nestling together to watch the seniors, the biggest kids in the school, say their bittersweet goodbyes at the Yearbook Assembly.
This week, they are those seniors, concluding their time at the only school they've been at for their entire academic career. As they graduate on June 3, 11 of them join MPA's Joanne Olson Club, reserved for students whose entire K-12 or PreK-12 journey has taken place here at MPA.
Recently, members of this group–Henry Galicich, Aidan Harms, Griffin Jones, Nicholas Larson, Gabby Magistad, Jack Peterson, Freya Rahm, Henry Seum, Siri Springer, William Tan, and Anthony Troullier–gathered together for a group reflection on their MPA journeys. After all, who knows more about the MPA community than the students who joined in kindergarten and now leave the school as young adults, each bound for college and charting their own paths?
MPA teachers foster the ability to solve authentic, real-world problems. Students are empowered to be architects of their education, and furthermore, their lives. So we asked,
How has being a student at MPA shaped you?
Freya: My communication skills have definitely developed because of MPA. I'm able to express how I feel and what I need to say. I feel prepared to answer questions, and when I was applying for jobs, I felt ready.
Nicholas: Adding on that, we do a lot of class presentations and public speaking, and I think that's an aspect that MPA students are really good at. On my swim team, we have to do something similar to senior speeches–when you graduate, you give a speech to the whole swim club at the end-of-the-year banquet. And a lot of my teammates were really nervous. But it was just another speech for me.
Siri: Also, we have so much one-on-one time with our teachers. Talking to them helps. You learn to talk to adults and it's encouraging for things like interviewing for jobs. Read More