January 4, 2022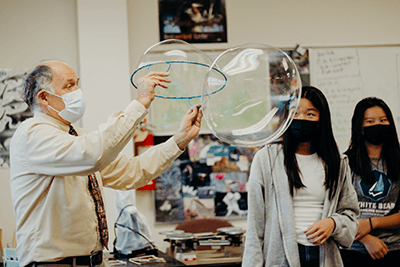 RSVP to discover something remarkable: life at MPA. We warmly invite your family to attend the MPA Preview on Sunday, January 30 at 2 PM. It's the perfect opportunity to discover why you belong here!
Though virtual, this event will provide prospective families with an opportunity to truly discover the type of remarkable hands on learning that MPA students do each day. You will rotate among several classes taught by our expert faculty. These will be interactive, experiential sessions that are actually abbreviated versions of real MPA lessons, modified to be appropriate for all ages. Prospective families will also have an opportunity to take a virtual tour and experience 15 of our state-of-the-art spaces.
Lower School Sessions
Keep It Up with Tim Sheehan, Lower School physical education teacher
Improve your volleying and striking skills during the Keep It Up session. You will learn how to properly toss, catch, volley, and work through several challenges that are safe to do at home. You only need a balloon or two socks rolled up in a ball and any type of basket (laundry basket, bucket, paper bag) to participate!
Dreaming Up: A Celebration of Building with Tami Fisher, second grade teacher
After a quick tour of the Makerspace, Ms. Fisher will share a read aloud and lead a short lesson connecting math, literature, and critical thinking. Using the elements of design thinking and brainstorming, families will choose a structure or material they were inspired by from the anchor text and create their own structure. Families are encouraged to participate in the brainstorming and planning, so that they may build their structure at a later time.