December 2, 2022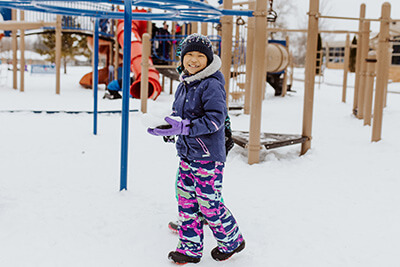 With any relocation, there are many moving parts as families transition their lives somewhere new–one of them being your first Minnesota winter! Minnesota has a climate that allows us to experience four distinct seasons. With the right mindset and preparation, experiencing the transformation from one season to the next is inspirational and invigorating. Here's how you can set your family on a path to thrive, not just survive, through your new favorite season here.
Keep Kids Moving
The winter months can get long here in Minnesota. It's cold outside and there is less daylight, so it can be hard to stay motivated, but physical activity is important for everyone all year round–especially young children. Physical activity is vital to a child's success emotionally, physically, and mentally. It helps them build and maintain healthy bones, muscles, and joints, and prevents chronic diseases. Physical activity is beneficial for the development of cognitive skills, which can help kids stay more focused in the classroom. It also helps kids sleep better and significantly reduces stress and symptoms of anxiety and depression.
At Mounds Park Academy, we believe in the importance of physical activity and encourage students to be active outdoors throughout the year. We know that children need time to play and socialize, so our students have recess every day—even in the winter. Although it's colder outside, all it takes is a few extra layers. The benefits are seen in the classroom as well as on the rosy faces of our students.
MPA students also embrace winter through their activities and athletics, such as the Middle and Upper School Alpine (downhill) ski team, Middle and Upper School Nordic (cross country) ski team, the boys hockey team, grade level group outdoor adventures like snowtubing, and Northern MN i-Term adventures like dogsledding. Read More