September 23, 2020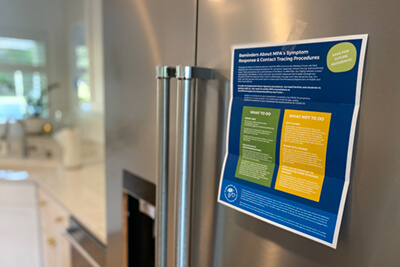 Through our team of medical advisors and the MPA Community Advisory Group, we have detailed and multi-pronged procedures for symptom response, contact tracing, and confirmed cases. These procedures are a cornerstone of the Back To MPA Plan. Our highly-trained contact tracing team will deploy a swift, personal, and private response that is taken through our 49-point COVID-19 response flow chart to effectively manage each step along the way. Our team will also partner and work hand-in-hand with the Minnesota Department of Health and other local officials.
In order to implement these rigorous procedures, we need families and students to partner with us. You need to notify MPA immediately at covid19tracing@moundsparkacademy.org if your …
student or someone in your household is experiencing COVID-19 symptoms;
student is a "close contact" of a confirmed COVID-19 case; and/or
student or someone in your household has tested positive for COVID-19.