May 18, 2023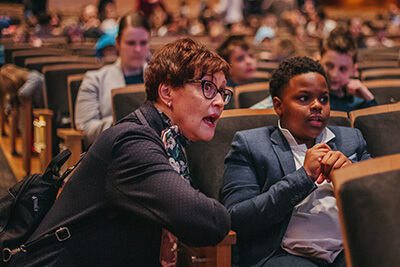 from Bill Hudson, head of school
"Because I had a teacher, I know how good it feels when someone is happy to see me. I know that I can always ask for help. I feel like I have a friend on my side…Because I had you, I learned to believe in me." From the book, "Because I Had a Teacher" by Kobi Yamada.
If you are like me, you have a favorite teacher who you continue to hold close to your heart. Mrs. Long was my third-grade teacher and had a tremendous impact on me. I attribute to her my curiosity and love of learning. My parents recalled how I would come home from school each day with a list of what "Mrs. Long said…" I would go on and on at the dinner table with all that Mrs. Long said that day, and 50 years later, I still hold her dear.
On Thursday, May 25, we will honor six members of the MPA faculty who are retiring this year or during the years of the pandemic. Together, they have more than 200 years of service to MPA. It is impossible to measure the impact these wonderful teachers have had on their students. Indeed, they have touched the hearts and minds of so many.
Please join us to honor the distinguished careers of MPA retirees from 2020-2023 at the Mounds Park Academy Retirement Celebration. It has been our tradition to celebrate retirees at a reception at the end of the school year. I know that the month of May is busy, but I promise that you will not regret attending. Join us in the Family Commons and Martin Lenz Harrison Library from 4-6 PM, with a brief program at 4:30 PM. Read More