June 8, 2021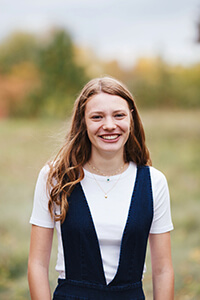 Eva graduated on June 6, 2021 as a member of the Mounds Park Academy class of 2021. She will attend St. Olaf College in Northfield, MN.
What do you love about MPA?
There are so many things I love about MPA! However, what really stands out to me is the teachers. Every teacher at MPA truly wants to create a personal bond with me and see me succeed. They have shown me true passion in their work, inspiring me to go out and work for my passion every day.
Why do you believe your teachers teach the way they do?
MPA teachers have ignited my love for learning through the ways that they teach. They teach the way they do to inspire their students. Every teacher at MPA has a passion for what they teach and want to see their students thrive. Read More