January 14, 2022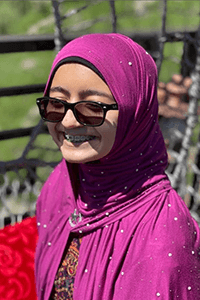 This is Zainab's second year at MPA. She joined in eighth grade and is currently in ninth grade.
What do you love about MPA?
What I love most about MPA is the community and environment. Not only does MPA provide students with a supportive community, but it also gives an environment that encourages curiosity, and it pushes its students towards improvement rather than pressuring students to constantly succeed. MPA makes me feel safe and respected, which I feel is vital in high school. I have never dreaded going to school at MPA. Everyday feels like a new and exciting experience. MPA truly is one of a kind––not only in its beliefs, but how it implements them to create an experience for each of its students.
How are you encouraged to dream big and do right at MPA?
MPA wholeheartedly encourages its students to institute change, gives students the support they need to pursue their passions, and teaches students that everyone can make change. We are not treated like we are ignorant of the "real world," and instead, given room to grow as individuals. I have felt that this treatment encourages us be unafraid of uncertainty and pursue happiness. Read More