January 26, 2023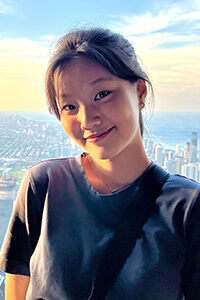 Mina Kim has been at MPA since eighth grade. She is from Seoul, South Korea, and is currently living with an MPA host family. Learn more about our international student program and becoming a host family here!
What do you love about MPA?
What I love the most about MPA are the opportunities given to me. MPA offered me a chance that I can study abroad, then a whole new journey in my life began. While I have continued my study in MPA, I, fortunately, was able to have enough opportunities which satisfied my academic desires. MPA provided me with a challenging and engaging social environment through well-driven people, multiple projects to express my creativity, and open chances for everyone. For instance, I am involved in band, debate, soccer, and student council. I take these as opportunities that allow me to build many good relationships with teachers and teammates and be passionate and responsible at my tasks. I deeply appreciate these great opportunities that I enjoy in MPA.
How is your experience at MPA different than your former school?
I spent most of my youth in South Korea. I am grateful that I was under an excellent education system with rigorous and challenging academics throughout my former school years in South Korea. It helped me develop my own study habits and have confidence, which led me to MPA to discover new academic challenges. Besides the academic aspect, I really liked that respecting and cooperating with others was always strongly emphasized in Korean schools in a social manner. Now, as a proud member of MPA, I recognize that the MPA community is more liberal and diverse. Chances that are given to me of choosing electives and clubs helped me out with enhancing my own abilities and how to efficiently use them. I learn and adapt a lot from interchanging ideas with people from different backgrounds and histories. Further, a deep encouraging sense of community and easy interaction with teachers has become a solid ground for me to navigate academic paths.
In what ways has MPA prepared you for life?
MPA taught me that freedom and responsibility always follow each other. I feel respected by the people in the community, and I really appreciate the freedom given to me. However, I am also asked to be responsible for my tasks and behaviors at the same time. Having this lesson let me take some time to look back at myself and think of being a better person. Furthermore, dedicated teachers at MPA improved me in various aspects. All the meetings, interactions, and even a small hallway talk with them taught me not only academic knowledge but also the worth of passion, kindness, and integrity which are prioritized in our society. I have a strong belief that all these I learned from MPA will benefit me in many good ways.
What do you dream for yourself in 20 years?
I can say MPA is a place that allows me to navigate and pursue my passion for the future. Through elective classes and experiences at MPA, I found myself as a person who highly values social justice and finds joy in argumentation on the agendas to make the world a better place. With my specific background that I was raised in an armistice country and knowing many people around the world are suffering due to civil war, dictatorship, and poverty, I was also inspired that help is truly needed in many places all over the world. I can hopefully picture myself being on a judicial occasion in the future who always devotes herself to the most possible contribution towards a fair and safe society.