November 27, 2023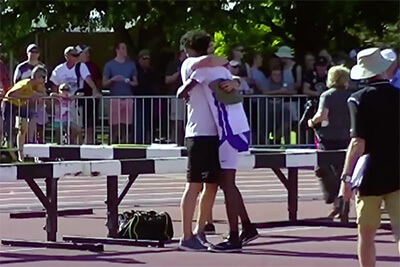 This message is from MPA's Office of Admission from the November 27, 2023 issue of InsideMPA. Click here to get in touch with Admission and learn more!
What factors contribute to a student athlete's success, both on and off the field? How does a small-by-design school like MPA foster athletes who go on to do incredible things?
A balance between athletics, academics, and the arts is not found at every school. Often students' priorities conflict and they must choose one passion area over another. MPA students are encouraged to dive deep into many passion areas and the supportive environment makes doing so possible.
When Nate Bander '09, coach, saw potential in basketball player Yahya Madar '19 and inspired him to join the track team as a high jumper, a transformation began, and history was made. What might seem like a sports story is so much more.
Through our no-cut policy, low student-teacher ratio, and committed and passionate community, student athletes are known, understood, and seen by their teachers, coaches, and mentors. They receive help when they ask for it. They are fiercely cared for. They are encouraged to take risks and dream big. Click here to hear their story.