November 24, 2020
Meet Boys Varsity Basketball Coach Rich Harris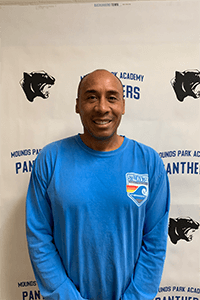 What was your playing career like?
I played four years in high school in Oklahoma and was the starting point guard my senior year. I then played point guard at Southwestern College, an NAIA school in Winfield, Kansas, graduating in 1996.
What coaching experience do you bring to MPA?
After finishing my college career, I stayed on for one year as a student assistant. Since, I have coached a variety of different levels of basketball and many schools. Some highlights include coaching the freshman boys team at Southeast High School in Wichita, coaching JV boys and then Varsity boys at the American School of Doha in Qatar (we went undefeated in 2011), assistant coaching girls Varsity and then boys Varsity at American School in London, coaching Middle School and High School boys at the International Schools Groups in Saudi Arabia (we went 21-4 record and won the conference championship during the 2018-19 season), and coaching girls JV here at MPA. The girls at MPA taught me compassion and commitment and I will never forget that.
What is it about MPA that makes it a great place to coach?
The kids! MPA has such wonderful students who want to succeed. Also, the faculty and staff has been very supportive. Read More