December 1, 2022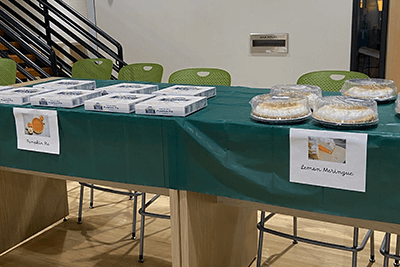 Pie Love
Right before the holiday break, the MPA Parents Association participated in our annual Thanksgiving Pie distribution to all staff. This year staff had a choice of apple, pumpkin or lemon meringue pie! Thanks to Chef Chris for ordering and Cherie and the Development team for helping with distribution.
Book Festival Is Almost Here! Support the Joy of Reading at MPA.
The annual MPA Book Festival arrives next Monday, just in time for Winter Break reading or holiday gifts! This year the book festival is in-person once again.
Ways to Support MPA's Book Festival:
Visit the Gallery to purchase new books and gift cards. During the week of the Book Festival, Usborne will be selling books in the Gallery, and Valley Bookseller gift cards will be available for purchase. A portion of the profits generated from those sales will be donated to our library.
Help build a teacher's classroom library. We will have the books our teachers requested for their classroom libraries available for purchase in the Gallery. Check or cashless payment only.  You can hand-deliver the books you select, or we can deliver them for you. Download the list here.
Visit the Used Book Sale. LS used books will be sold in the LS Atrium at drop off and pick up. MS and US used books will be sold during lunch and recess outside the Family Commons. We have an excellent selection of books for all ages. All proceeds raised from the Used Book Sale benefit the library.
Book Discussions All Week!
December 5, 8 AM in the Gallery: Book Festival Kick-Off Coffee with book recommendations
December 7, 6 PM in the Library: Book Club with Dr. Hudson
December 8, 3-4 PM in the Family Commons: Cocoa and Popcorn Storytime, Upper Schoolers will host a story time for Lower Schoolers. Sign-up here to attend.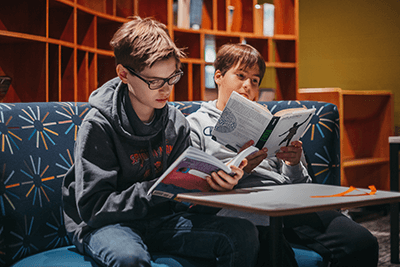 Can't make it into school that week? Valley Bookseller is dedicating their bookshop.org/shop/valleybookseller affiliate link to our Book Festival. We must use this website, not the Valley Bookseller site, for the school to get a portion of our purchases. All books must be shipped to your home. Email PA@moundsparkacademy.org with questions. Happy Reading! Read More