October 14, 2021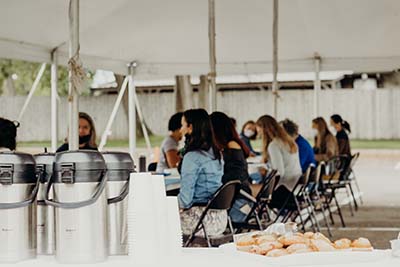 from the MPA Parents Association,
Sip Coffee and Relax by the River
Wednesday, October 20 at 9 AM. Celebrate the start of MEA weekend with a relaxing morning in Stillwater. Bring your chairs and meet at the parking lot by River Market, 221 North Main Street, Stillwater, Minnesota. From there, you can sit by the river with a coffee, take a walk across the lift bridge, ride the Brown's Creek trail, or head to a nearby park to play.
LS Halloween Party
We are so excited to be able to host a Halloween party again this year! Weather permitting, we are planning an outdoor party. We are happy to share that we can have parent volunteers again this year!  We are in need of volunteers to help with set up, the individual parties, and/or clean up.
Masks are required for all visitors. Vaccinated and unvaccinated visitors need to stay home and not come to campus if experiencing covid symptoms as detailed in the screening app. Guests should maintain 3-6 ft. physical distancing when possible. Visitors must also report any symptoms 48 hours after being on campus for symptom response protocols.
Sign up here: https://www.signupgenius.com/go/20F084DACA622A5FB6-lower1
Thank You!
The MPA Parents Association would like to thank everyone who participated in and donated to the recent Fall 2021 Faculty/Staff Appreciation Week! Trying to hold a "traditional" Appreciation week during still unsettled times was quite a feat. We are so grateful for the amazing response from families that helped us feed and hydrate all staff during the week. Teachers were also able to get dinner to go or eat on campus on the Thursday evenings before conferences. Special thanks to Chef Chris and everyone at Sage who helped with the dinners. The MPA PA would also like to thank Angie in Development and Cherie in Administration for being our people on the inside and setting everything up for us.
Thank you again to our wonderful community, Tara Lafferty, Shari Jacobus and the MPA PA.
Thank You to Our Gardeners!
Thank you to all those students and families who helped with the Spruce Up on Saturday of last week at the Larpenteur retention pond. Thanks to the massive help and pure commitment we were able to remove much of the blockage in the pond—with the most revolting of smells wafting around as a result! We cleaned up around the pond, removing both trash and many volunteer saplings. We continue to work on this area, with some more tidying up to do, and will be spreading native seed soon, in the hope that we can all benefit from this lovely space!
Thank you again! Michelle Mick and the MPA PA.
Parents Connect
Wednesday Morning Walks
Since there is no school this coming Wednesday, the Parents Association invites parents and guardians to attend our event in Stillwater next Wednesday morning. After MEA, our Wednesday morning walks will resume depending on weather and interest.
Save the Date!
If you enjoyed the last Spruce Up, we have another planned for November, to help Mr. Thomsen's area. It will involve more tidying up, removing weeds, saplings, and helping to improve the access for students to learn and enjoy. Saturday, November 13th, 2-4 PM, meeting near the US entrance. If you have any questions, do send me an email at michelle_wessely@yahoo.com.
Remember to bring a mask to all events! Hope to see you there!