February 2, 2022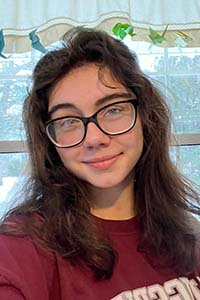 What do you love about MPA?
I love the environment and the people, staff and students both. When you walk into MPA, especially the classrooms, it feels so warm and inviting all the time! I tend to stay after school frequently and I'm constantly surprised how everywhere I go has a safe feeling to it.
How are you encouraged to dream big and do right at MPA?
For me, the encouragement comes from all of the opputunities. Part of what I love and appreciate so much about MPA is that they help you find opportunities to expand knowledge and/or experiences in certain fields. (college counseling, history day, writing competitions, math competitions, etc.) So the encouragement comes from all of the opportunities that are presented to me and knowing that there are teachers and other adults that want to help me succeed.
Why do you believe your teachers teach the way they do?
I'll be honest, I've never really thought about this! All of the teachers I've had (and have) are very thoughtful and understanding, and not to mention, they are all extremely good at what they do. Maybe they are like that because they're trying to create and maintain a good teacher-student relationship. It's very easy for students to take teachers for granted, but I also feel the same is true about teachers to students. It takes more effort to create a lasting friendship with a teacher, but I think that is why the MPA teachers teach the way they do–because they care and want to be a part of the students' lives. Read More