September 2, 2020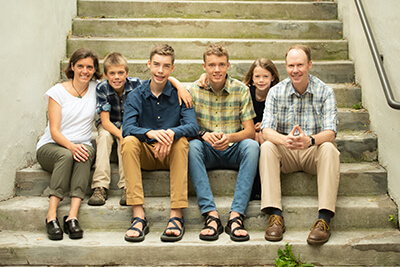 What do you love about MPA?
I love the encouragement to try new things, the support through hard times, and a community that truly cares for each other and the world.
What initially attracted you to MPA?
Our oldest son Henry was struggling and his old school had given up on him. He needed a fresh start, a small setting and a place that embraced the whole child. Our children are no longer struggling. After being at MPA, they are thriving, and that's especially true for Henry, who graduated from MPA this past spring. He entered MPA with no confidence in himself academically, socially or athletically, and look at him now! A state champion, confidently heading to the college of his dreams with a close knit group of friends that support and cheer for each other.
How is your child encouraged to dream big and do right at MPA?
All four of my children who have attended MPA and very different with unique gifts. Each of them feel encouraged to be their own individual selves and celebrated for their talents. They are challenged at school, but because of MPA, they have the confidence to put in the effort to persevere through the challenging coursework and ask for help when it is needed. For example, Henry's Track and Field coach Bev Docherty had a lot to do with his success. Henry had a hard time running the 400m and 800m. The speed needed for those events was a challenge for him. It's not where his strength lies. However, she didn't give up on Henry. She encouraged him to do what was hard and always told him she believed in him. Coach Docherty made him believe that if you don't give up on yourself amazing things are possible, especially when you have a great team around you.
If your child has attended another school, how has your experience at MPA been different?
They are supported and appreciated for who they are. No one expects my children to fit perfectly into an academic box at MPA. The teachers are available to help and they know all four of my children so well. They can pull the information out of them and form deep relationships, which makes my kids more willing to take risks, knowing that if they fail, someone will help them get up.
What would you tell another family considering MPA?
This is a school that truly works towards their mission. They will support every kid to live up to their potential and continue to create kids who make this world a better place. MPA believes in educating the whole child and that every child has unique gifts to celebrate. Kindness is a key value at MPA, and I discovered that you can't find that everywhere.
In what ways has MPA prepared your child for life in the 21st century? What are the key attributes, skills, and content that you find most valuable?
MPA teaches kids to think, synthesize and interpret information. So many schools ask kids to memorize and then regurgitate information. MPA is different in that students are asked to interpret and react to the information at hand and then make something of it. This is what the world needs.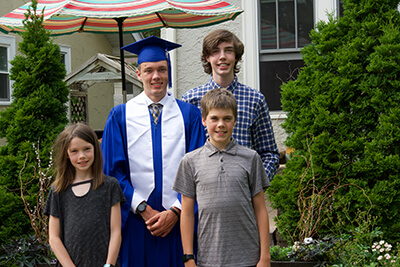 In what ways has MPA prepared your child for life in the 21st century? What are the key attributes, skills, and content that you find most valuable?
MPA continually asks kids, "How are you going to make the world better? How can you support others?" By continually putting the focus of an incredible education on caring for our local communities, our earth and our world, MPA students are prepared to make the world a kinder and more just place for all.
Is there anything else you'd like to share about your MPA experience?
I want to specifically say thank you for being there for Henry. We are grateful every day. Because of MPA, he finally ignited the fire burning inside him to work towards his dreams. Steve and I always knew that fire was there, but Henry lacked the confidence and support to light it. MPA took a kid that was the shadow of his potential and made him shine in ways we never dreamed were possible. Henry learned to set high goals for himself (he definitely dreams big) and do what he needs to in order to achieve those goals.
More importantly, Henry is happy and he has found a great community. He laughs. He's joyful. He's resilient. He's confident. He loved being a student at MPA and he's excited to pursue a mechanical engineering degree. He knows how to advocate for himself and ask questions. He holds his body with confidence and is ready for whatever the world is going to throw at him next, knowing that he can get through it and come out better on the other side.
I think back to the kid I presented when we were first looking at MPA and I look at the kid who just graduated from MPA and its stunning to realize it's the same kid. We could have NEVER predicted the amazing growth he had during his years at MPA. Athletically, he achieved goals beyond even his wildest dreams, and that lead to his success academically and socially. Henry has definitely dreamed big and done right, and I look forward to seeing how he can move into the next phase of his life and continue to inspire others to go after their dreams too.