May 16, 2017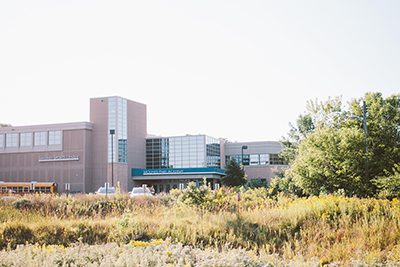 Many parents wonder how they will be able to afford sending their child to a private school. This was the question that Dawn Jurkovich and her husband, Gary, first had when considering Mounds Park Academy for their middle school daughters. As a financial advisor and planner, Dawn tapped into her professional expertise to make the decision. We thank Dawn for sharing her insight in the Q&A below.
Why did you decide to enroll your daughters in private school?
Our need-to-make-a-change moment came when one of our daughters was literally doing her homework on the car dashboard as we were running her to a practice…and she completed it with ease. That was not okay. Middle school is such a critical time from a development perspective, and we wanted to make sure the kids were in the best environment possible, one where they would be educated holistically, not just academically. Plus, as high school was approaching, my daughters were apprehensive about the size of our area school, especially since they were facing some challenges…middle school can be a horrible time for girls! We felt that this was the time for us to make a huge difference in their lives and set them up for future success.
How did your professional expertise help you make the decision?
As a financial advisor, I help clients make rational decisions that will both maximize their wealth and align with their core values, helping them live life according to their plan. For us, our core values center around our kids. So when the dashboard moment happened, and our daughters agreed to consider private school, we knew we had to figure out the financial piece. We hadn't saved for private school because it wasn't in our plan. But as a financial advisor, I knew I could pull different financial levers to be able to afford tuition.
What are the "financial levers" you employed?
There are four different areas that we examined to make Mounds Park Academy work for us.
Monthly cash flow: We went through our budget and examined where we were spending money that wasn't related to our values. We realized that we were wasting a ton of money on just stuff: cable, Starbucks, cell phone bills, and other typical expenses that most Americans incur. So we re-focused our spending on where our values are. We're okay with spending money…we want to go on vacation, for example. We live in Minnesota, and the winters are long! But even with our vacation budget, we now consider our choices more carefully, and in general really homed in on our frivolous spending.
Retirement Planning: As a financial advisor, I have access to software that allows you to play with different retirement scenarios. So we decided that we could retire three-to-four years later and still continue to save for retirement. When I looked at the financial plan, I realized that we were going to have more than we needed in the end. So rather than pass on a big inheritance to our daughters, we decided that we'd prefer to invest in their lives now.
Financial Assistance: We are fortunate to have a great family income, but we also have a lot of financial commitments. Before heading into the private school admission and financial aid process, we didn't think we'd qualify for any assistance given our income. But we did qualify, and we did secure some assistance. So make sure that you apply—the help could make the difference in your child attending.
Savings: We realized that we could use money from some of our non-retirement savings to help cover the increase in our monthly expenditures. With two girls at Mounds Park Academy, it's almost $50,000 per year. But when we broke that up over the course of the year, factored in our budget reductions and financial assistance, and used some savings, it was actually affordable.
You said that you help your clients make "rational" decisions. What are some of the "irrational" ones that you see when it comes to parental investments in their kids?
Too many parents, and we were caught up in this, too, are spending so much money on athletics and extracurriculars. You'd think that some parents were trying to make their child a pro athlete with the tens of thousands of dollars they spend on athletic training programs, camps, trips, equipment, and more. Thinking rationally, it is unlikely that your child is going to be a pro athlete or even obtain a college athletic scholarship. And so much can happen: a child could burn out from the sport you're investing in so much, get injured, or want to go to a college that doesn't give athletic scholarships—most don't. From an economic perspective, parents would be better off making sure their kids are exceptional students and aiming for academic scholarships!
How do you rationalize the cost of private school with college costs looming?
We feel like we are front-loading our children's education now, and maybe we'll get some help during the college years. With all of our extra money going toward private school, we realize that we're going to have to cash-flow their college costs and perhaps ask them to assist with those costs. But we're living and working longer now, so it's doable for us, and from my experience, for others.
How was the transition to MPA for your daughters? How do they like MPA?
For my older daughter, the shift from a public middle school to Mounds Park Academy has been a night-and-day change. She had struggled in her former middle school, and I hated seeing her feel bad about herself. So she was more open to considering a private school from the start than her sister was, in fact, I had to force our younger one to go to the shadow day at MPA! She was just not interested in private school. But we told her that she had to try MPA for one year, and then it could be her choice. In the end, she decided to stay at MPA, which I thought was a great decision.
What they like most about MPA is that they can feel secure about themselves…they don't have to try to fit in. They're recognized for who they are as individuals, and they can feel good in their own skin. My daughters realize that it's okay to ask questions in class, which is something I struggled with in middle school, and they were struggling with in their former school. A big part of this regained sense of self and confidence is the teachers. They love the teachers at MPA, as do I. They have a vested interest in each child and can personalize the way they teach.
They also love all of the variety of what they're being offered: theater, band, second languages…and all of it comes with a lot of one-on-one attention. They can get help when they need it. Plus, they get some time during the day to tackle some of their homework so they're not going from the school day to extracurriculars and then facing two-to-three hours of homework a night. Sure, they have homework, but being able to work on some of it during the day is teaching them some very valuable lessons in time management.
What advice do you have for parents who are considering private school but are concerned about the cost?
We all want what's best for our children. We want them to be happy, to love learning, to reach their potential, to have good friends, to develop their passions, and to have a strong sense of self. Private schools are inherently small, which allows them to focus more individual attention on each child; they often have more specialized classes and extracurricular options that are more accessible than a public school. All of this comes at a cost.
Private school is definitely an investment in your child, or in many cases, children. For parents with multiple children, who often want to send their child to the same school, private education can seem daunting. But each child is different, as we all know. So it's important to make the best decision for each of your children at each stage of their life, and it can be hard to know what to do. But if you're even thinking that MPA or another private school might be the best fit for your children, a place where you know they will shine and thrive, follow your parental instinct and explore the private-school option. It might just make your school dilemma an easy, rational decision, when you step back and say, "This is it. This is where my child belongs."
Dawn Jurkovich is president, founding partner and a private wealth advisor at RELEVÉ Financial Group.
This article is for information and illustrative purposes only. It is not, and should not be regarded as "investment advice" or as a "recommendation" regarding a course of action, including without limitation as those terms are used in any applicable law or regulation. You should consult your financial advisor with respect to these areas and the material presented herein.