October 12, 2017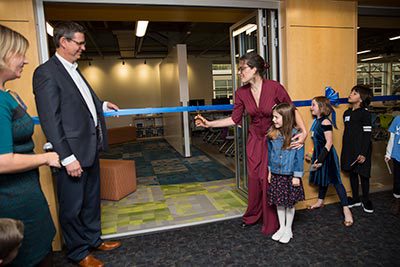 by Dr. Bill Hudson, Head of School
I am a loyal listener to MPR. I rely on it to stay current and up-to-date with what is happening in the world and in our community. It also keeps Ari and me company on the commute to and from school from our home in southwest Minneapolis. We listen to it so often that she may be one of the few middle schoolers who considers Tom Crann and Robert Siegel to be celebrities.
As faithful as I am to MPR, I don't look forward to the seasonal (bothersome) pledge drives. However, I was pleased last fall when Ari asked me if she could use some of her own money to become a member of MPR. Maybe it was the free socks that motivated her but I know she values the conversations we have about what we hear on MPR. I hope she gave because she has come to realize that philanthropic giving is important to us as a family.
I experienced a deep and profound gratitude last Saturday during the formal dedication and ribbon cutting for our new Makerspace. It was a wonderful event and quintessential MPA. There was such joy as children engaged in STEAM-related activities while adults toured the Makerspace and learned of the new and exciting educational opportunities in store for their children.
My gratitude was also a result of knowing that the Makerspace is representative of the power of philanthropy and its impact in fostering the gifts, talents, and mindsets of our students. Over the past several years, similar partnerships with parents, grandparents, alumni, and friends have resulted in new tennis courts, renovated bathrooms, cutting-edge teaching tools, educational technology, increased teacher professional development, and much more.
In just a few days, we will launch our annual Fall Campaign, "Joyful Learning, Joyful Giving," to benefit the MPA Fund. The MPA Fund is dedicated to providing the necessary resources to make critical investments in our curriculum, facilities, and the faculty who love and inspire our students.
We've made great progress in fostering a culture of philanthropy at MPA. For instance, the percentage of parents giving to the MPA Fund has increased from 39 percent in 2014-15 to 60 percent last year. Please know that every gift is valued and participation at any level is appreciated. You may also be interested in knowing that 100 percent of faculty and staff gave to the MPA Fund last year and I expect it will be the same again this year. We have the most caring, knowledgeable, talented faculty and staff who are willing to take that to the next level by contributing to the MPA Fund.
I humbly ask for your help as we kick off our season of giving by considering a gift during the Fall Campaign, which starts October 16 and runs through November 17. Look for more information in the mail, visit the MPA website, or contact the Development Office to make a gift. Thank you.