November 14, 2017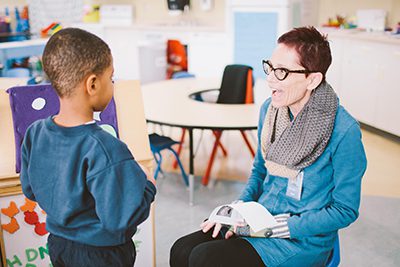 PreK teacher
How many years have you been at MPA?
5 years
What do you love about MPA?
The students and families, nurturing community, and great colleagues who are passionate about what they do.
How does MPA nurture students who forever dream big and do right?
Students are given opportunities to create, explore, experiment, participate in community service projects, and have their ideas and opinions heard.
What would you tell a parent considering MPA?
MPA is a warm community with faculty and staff who are passionate about what they do. Small class sizes offer many one-on-one learning opportunities. The learning environment is engaging and hands-on. And being in a PreK through 12 school provides opportunities for cross-grade level activities that are so unique.
In what ways are you preparing students for life in the 21st century?
I offer open-ended, hands-on learning opportunities. And I encourage problem-solving, public speaking, and becoming more independent.
What do you hope for MPA students in 20 years?
My hope is that students are involved in their communities and beyond, have the ability to persevere and thrive in their chosen field, and stay connected to MPA. Truly, I hope they dream big and do right.
Mounds Park Academy, a PreK-12 private school in Saint Paul, is currently accepting applications for the 2018-19 school year. For more information about admission and to schedule your tour, visit moundsparkacademy.org/admission. We look forward to getting to know your family!