November 30, 2017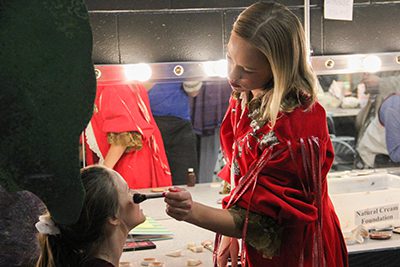 Renovating the Black Box Theatre was MPA's Fund A Need from the last Spring Auction. In less than five minutes, our community raised nearly $100,000 to make necessary improvements. The Fine Arts Department was humbled to be spotlighted and supported by the community in such a profound way.
The Middle School Play, Peter Pan, sold out four performances in the newly-remodeled space, and everyone noticed a difference in the new lighting, costume shop, infrastructural updates, and learning spaces that proved to be valuable to the students and their teachers throughout the entire production.
Heather Mastel, drama teacher and Middle School Play director, shares the difference: "I overheard many positive comments about the updated look with the new risers and chairs. The curtain made the Black Box look so polished. My favorite part of the remodel was the costume shop though … looking at it now, I don't know how we even got by with the previous space. The new space allows for collaboration and work in the shop!"
The costume shop doubled in size. Previously, there was an overflow problem from space to space, so much so that students needed to operate and design in the green room. The expanded room now has improved storage for more costumes, new shelving and racks, and new sewing stations to host the designing process right there in the theatre.
Before the renovation, the students and teachers made do with what was there, which caused unpredictability when it came to their productions. The previous curtain was hanging on by a thread and needed to be stitched and pinned prior to every show. While the old curtain fabric did get recycled back into the theatre, crew members are so relieved to have a reliable set now. The makeup studio also got its own curtain in order to more appropriately separate stage and set-up.
All of the lighting was replaced with LED fixtures, and the electric and pipe grid received safety upgrades. The demolition of several walls improved communication from room to room dramatically, and the space is much more breathable when an entire cast is preparing for a show.
And last, but not at all least, is the new audio system and stage technicians' position. Their hub was renovated so that all technicians working behind-the-scenes could see and assess the entire stage. This way, the new audio is maximized for every audience member's enjoyment.
If you weren't able to snag a ticket for Peter Pan, be sure to for an upcoming show to experience the renovated theatre! When the community comes together, incredible things like this become possible.