December 27, 2017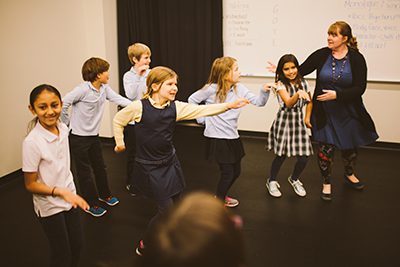 Drama Faculty
MPA Parent
What do you love about MPA?
So many things! As a teacher and a parent, I love that drama is part of the curriculum at MPA. It really shows the dedication of teaching the whole child. I also love that at MPA the "joy of learning" is imbedded into the school's mission.
How is your child encouraged to dream big and do right at MPA?
My daughter is given options and choices for her own learning. She is taught skills that encourage independence, self-confidence, and advocacy. But the focus doesn't stay on the individual—Lily's teachers have projects that foster collaboration, team building, and simply being a good friend. During a recent "music share," my daughter was nervous and forget her song … she looked at one of her friends who mouthed the first line and then Lily was ready to go. The next day, that friend began crying when a cookie fell to the ground at the school picnic and Lily immediately turned to comfort her. These are foundations that will last a lifetime.
If your child has attended another school, how has your experience at MPA been different?
Lily was originally enrolled at a different elementary school, until I was hired at MPA. I remember the moment during my tour when I started to look at the school as not just a potential teacher, but as a parent who wants the best for her child. She has more opportunities for physical education, art, drama, music, computers, and for creativity in the Makerspace. Many schools have cut art programs, meanwhile MPA has it as a required class through eighth grade. Also, the small class sizes cannot be beat!
In what ways has MPA prepared your child for life in the 21st century?
Lily is learning both the academic and social skills she will need to navigate the world.
What do you hope for your child in 20 years?
I hope that my Lily had the chance to reach for the stars—it is such a cliché, but I want her to have the skills she needs to make her dreams come true.
Mounds Park Academy, a PreK-12 private school in Saint Paul, is currently accepting applications for the 2018-19 school year. For more information about admission and to schedule your tour, visit moundsparkacademy.org/admission. We look forward to getting to know your family!