August 12, 2017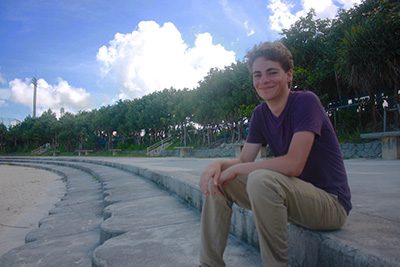 Thank you to Henry Peterson for sharing his incredible summer adventure with the MPA community! 
This summer, I spent two weeks at Okinawa Shogaku Senior High School on Okinawa Prefecture, a small Japanese island near Taiwan. Over spring break, my family traveled around Japan and I especially liked Okinawa's combination of dense urban area and small island feel, so I decided to come back over the summer.
I stayed in a dorm for students from all over the world near the school. Interestingly, many of the international students I met attend the Minnesota Japanese School that MPA hosts on Saturdays, so there were several other Minnesotans staying with me.
Each day, the other American students and I helped native Japanese students learn English. During many of the classes, the exchange students were excused to give presentations to other sections. I talked mainly about MPA and my hometown, but I heard presentations on American colleges as well.
We also met with students from high schools in Hong Kong and Taiwan to discuss the differences in cultures, schools, and life in our countries. I practiced reading and writing the language and spent time relaxing in the dorm with other American students. It was really valuable for me to be immersed in a new culture, and traveling alone for the first time helped me become more independent.
With all of these amazing experiences, I was surprised we still managed to have some free time. Outside of school, we perused Kokusai Street, a popular tourist destination with shops and restaurants. We participated in a traditional tea ceremony, ate delicious sushi, took karate lessons (all students at the school are required to participate). My favorite memory was a trip to Okinawa's Churuami Aquarium, one of the largest in the world. We saw an incredible dolphin show. I also went on a run through town to stay active and to get to know the area. I'm very grateful for this unique opportunity to observe and participate in a school with other students my age from all over the world.