September 29, 2017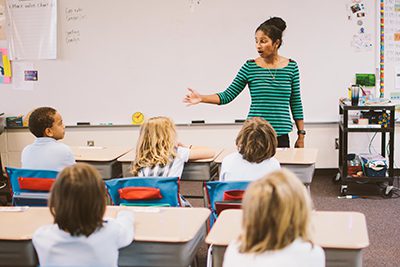 Fourth grade teacher
Lower School Parent
How many years have you been at MPA?
I'm starting my 12th year.
What do you love about MPA?
When I arrived on campus 11 years ago, I was immediately drawn to the passion that the school had for maintaining and building a diverse community. Having worked in San Francisco previously, I thought I was at the epicenter of an educational environment that valued diversity. I was wrong. That was here, at MPA.
Then there are the students. From my first eighth grade class, to my current fourth graders, I have been impressed with each and every one of them. There is a light … a spark … you do not find that everywhere.
And then there are my colleagues. Watching them is what makes me strive to be better each day. I've never been around a harder working, more dedicated group of professionals.
I love MPA as a faculty member, clearly. But now, as a parent, I can hardly put into words my love for the school without getting teary eyed. My children are thriving here, and I can't imagine a better learning environment for them!
How does MPA nurture students who forever dream big and do right?
Beyond the rigorous curriculum, MPA nurtures students in ways that instill the value of humanity. Teaching kindness and compassion is at the core of what we do. As an educator, it is my job, my duty, to help students see that they can pursue their dreams while also positively impacting those around them.
What would you tell a parent considering MPA?
Simply put: try it. You won't be disappointed.
In what ways are you preparing students for life in the 21st century?
We strive to model the value in having flexible thinking, being a creative problem-solver, working collaboratively, and seeing the world beyond your own lenses.
What do you hope for MPA students in 20 years?
Thriving in this increasingly challenging world while working to better humankind and the planet … that's not what I hope for them; that's what I KNOW they'll be doing.
Mounds Park Academy, a PreK-12 private school in Saint Paul, is currently accepting applications for the 2018-19 school year. For more information about admission and to schedule your tour, visit moundsparkacademy.org/admission. We look forward to getting to know your family!