September 7, 2017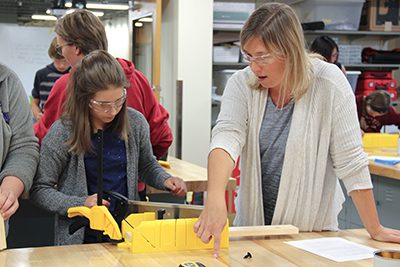 This week, the AnnMarie Thomas Makerspace opened its doors to the hands and brains of our students. Ms. Koen, Makerspace Coordinator, could best describe it with just one word: exciting. We held a Q&A with her inside the new addition to campus for a full look at Opening Week!
MPA: How does it feel to be in this brand-new space?
Ms. Koen: Exciting! The space is beautiful, and having students here brings it to life. I can really see that their wheels are turning. The Makerspace allows for collaboration with teachers, as they bring their classroom to the space and transform it. Once here, the Maker movement and mindset come to life organically. Each space in here is purposed for the dreaming, the doing, and the making.
MPA: Is it what you envisioned?
Ms. Koen: It's that and more! It started with a vision. The Makerspace Advisory Committee mapped it out, and then it really happened. The committee of students, parents, teachers, administrators, and the rest of the community as a whole contributed in one way or another. Every detail is intentional and very thought out. For example, students wanted a soft space where ideas can freely come to life, and I can see that they're already comfortable here.
MPA: What are some memorable moments from Opening Week?
Ms. Koen: I have loved hearing students say, "I'm so excited to come to the Makerspace!" and also stopping me in the halls to ask, "When do we get to come see you?" Also, Upper School students Toby Sullivan, Jordan Grabanski, and Jordan Akers have been helping out so much with setting up the Makerspace and developing the programs going on inside of it. And then, there's the parents. They're in awe too!