January 24, 2018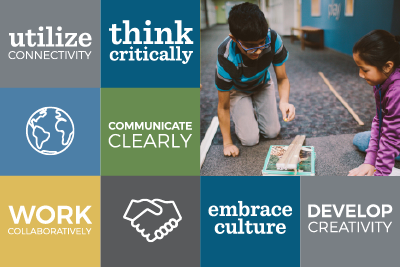 The academic emphasis on only reading, writing, and arithmetic is long gone; the emphasis today is broader and more nuanced than these foundational skills encompass. Some schools, including Mounds Park Academy, are even broadening the skills identified in the "21st Century Skills" movement, commonly known as "the 4 Cs" or critical thinking, communication, collaboration, and creativity, to include two additional Cs: culture and connectivity.
At MPA, we welcome the increased focus on these critical skills, because, as a progressive and independent school, we've been emphasizing them since our beginning in 1982. This was long before the 21st Century was in our public consciousness. We have known for 36 years that these skills are critical for students to become engaged, thoughtful, and informed global citizens who are able to use their deep content knowledge to make a difference in their communities, in our country, and in the world.
We asked six MPA faculty members from across our community to share how they develop the 6 Cs in their students:
Thoughts on Critical Thinking from Jason Schwalen, Upper School English
In the English Department at MPA, we are creating students who are not simply critical thinkers, but informed thinkers who are willing to use those critical thinking skills to confront and solve the problems our culture has carried throughout history…attaining justice, equality, equity, and inclusivity begins with education.
In order to move our culture in a positive direction, our students need to be informed readers, critical thinkers, and skilled writers, and we build these skills by analyzing authors and artists who have attempted to document and improve our culture. Examining these authorial perspectives—and writing about them—helps create a foundation that equips our students to assess, analyze, and tackle the challenges that accompany trying to change the world.
Thoughts on Communication from Michael Vergin, Upper School social studies
Every year in late May, the seniors from my Constitutional Law class present oral arguments on a current Supreme Court case before panels of judges and law professionals at the Minnesota Court of Appeals. Last year, 28 seniors, half of the graduating class, successfully communicated the ideas and arguments that they had carefully researched, formulated, and practiced, culminating all of their work. While most students will never enter the field of law, these types of real-world communicative experiences give them valuable skills that will serve them well.
For me personally, debate and speech were my two most valuable extracurricular activities; they shaped who I am today. So, I am thrilled that more than 50 MPA Upper School students have already participated in multiple debate tournaments this season. MPA debate alumni are making their mark in many fields—business, academia, government, nonprofits, and others—and while the job descriptions differ markedly, they all emphasize the essential skill of communication.
Thoughts on Collaboration from Marina Dale, Middle School social studies, self-appointed "Queen of Projects"
Throughout my curriculum, I have small groups of students undertake thought-provoking and interactive projects to delve into American History topics. For example, while studying World War II, collaborative groups represent several perspectives impacted by President Truman's decision to drop the atomic bomb, critically thinking through the ramifications of the president's actions and giving voice to a wide range of views, vested interests, and outcomes. Students research and prepare for a debate in which they try to convince President Truman to take their suggested course of action.
Through this type of collaboration, students learn the historical content at a deeper level and, just as important, the process of working with others. Collaborative learning also empowers students to take charge of their own learning and develop the resilience and confidence needed to articulate, share, and defend their ideas, and to scrutinize and respectfully challenge those of their peers. Working collaboratively on a variety of projects in a structured, supervised environment allows my students to develop and practice these critical skills in a safe and nurturing space.
Thoughts on Creativity from Lisa Buck, Middle and Upper School art
Creativity is a function of developing original thought processes. It is the ability to ask over and over again, "what if?" It takes an act of courage, risk-taking, and I believe, practice. Artists are thinkers and makers, practicing daily the craft of creativity. When we teach our students the hands-on skills of art-making coupled with critical thinking and deep meaning, we give them the skills for life and offer them a way to respond to the world with "what if?" possibility.
Creativity, as taught in visual art classes at MPA, is done through a well-designed structure of lessons that teach students how to practice the necessary elements that make up creativity: brainstorming, problem-solving, ideation, production, assessment, and reflection. Coupling this "practice" with intuition, decision-making, and skill-building, we can develop student creativity over time. Recently, my eighth-grade students selected a work of the brilliant William Morris (c. 1880s) and needed to interpret his floral imagery in a new way using cut shapes within a given space. They used only the papers they had painted as color studies for their previous artwork, scissors, and glue. They then had to work as a class to arrange each of their pieces into a greater whole, practicing the wonderfully transient skills of risk-taking, problem-solving, decision-making, and collaboration that can be carried over to any discipline.
Thoughts on Culture from Liz DesLauriers, Lower and Middle School world languages
By sharing my own fascination with other cultures and how people live, I aim to help my students develop their own desire to learn about, appreciate, and respect other people's practices and perspective. That's why learning about the people who speak French around the world is intertwined in my world language curriculum across grade levels. Throughout my classes, I try to make language and the various French-speaking cultures come to life through food, conversations with native speakers, classroom guests who share experiences, and the use of technology.
In first and second grade, we learn about Madagascar, and thanks to Google Earth we can be there in two seconds, dropped off in the middle of an island village, a school, or the rainforest. The students love this type of engaging activity, and it is a wonderful way to begin discussions about how other people live. In my third-grade class, my students and I recently Facetimed with my close friend who lives in Tours, France as she and her friend were sitting in a café. They showed us the café and the surrounding area, conversing with my students and answering their questions as they went along. Through this conversation, my students were able to speak in French with someone other than me and to virtually experience an important aspect of French culture.
Thoughts on Connectivity from Kari O'Keefe, Lower School, first grade
Virtual books, iPad apps, YouTube videos, virtual field trips, and Google Earth are all examples of technology that are commonly used in classrooms around the world and at MPA to engage students, broaden cultural understanding, and prepare students for future careers. Technology provides ways to open up the classroom to reach the outside world. As part of our curriculum, first-grade students often take movement breaks through sites such as GoNoodle, listen to an audiobook from time-to-time using Tumblebooks, manipulate Google Earth to locate places in our social studies unit, or use apps to practice math facts. However, as intriguing as these opportunities are in offering creative ways to capture students' attention, it's important to find a balance between the use of technology to enhance lessons and activities and hands-on learning, particularly in a first-grade classroom.
Using technology appropriately and effectively will no doubt influence classroom lessons and student lives as they continue to gain responsibility and a comfort level in learning how to navigate myriad devices. It will be exciting to see how technological advancements will shape our ability to connect students to what they're learning and to places around the world. Today's six and seven year olds have an innate sense of how to use technology as they have, very likely, witnessed use of it or had personal experiences with it their whole life. But there's still nothing like turning the pages of a real book when learning how to read, presenting plays in front of classmates and seeing the expression on the audience members' faces, and mixing ingredients to create a scientific reaction. Balance is a beautiful thing and intentionally sought at MPA.