April 19, 2018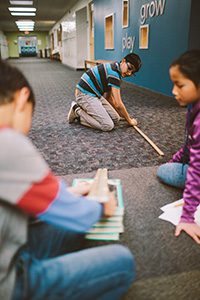 Many Lower and Middle School family and parent events are coming up this spring!
There will be an Lower School Parent AnnMarieThomas Makerspace event on Thursday, April 26 from 5-6 PM and on Friday, April 27 from 8-9 AM! In an effort to accommodate busy schedules, there are two meeting times with the same agenda. If you choose the afternoon time your child is welcome to attend Panther Club/Den at the expense of the Parents Association!
The education topic will cover the Makerspace and Ms Koen, Makerspace Coordinator, is the faculty guest. By consciously connecting liberal arts thinking with 21st century skills and competencies, the Makerspace provides students with the opportunities to construct meaning through making by way of practical, hands-on, interdisciplinary, problem-based projects. Come experience the innovative space and see a glimpse of STEAM at work!
All Middle School parents are invited to the last Middle School Parent Education Event of the year on Friday, April 20 from 8-9 AM in the Porter Conference Room. Dr. Jules Nolan will lead a conversation titled, "It's All About Emotions: What are developmentally appropriate emotional behaviors for your child? How do we manage our own emotion and that of our children during stressful times?" This session will explore emotional life, how emotions can impede or enhance learning, and how to protect our children by helping them develop emotional resilience. Research from Yale Center for Emotional Intelligence will be discussed as well.
The Parents Association Family Dinner Social for grades 4-8 is on Thursday, May 3 from 4:45-5:45 PM! As you're rushing to get ready for the Middle School Parent Meetings and Vocal Concert, the PA wants to take one thing off your plate–dinner!
Hosted by the Middle School PA Grade Reps and prepared by Sage, the PA would like to invite you for soup, salad, and sandwiches. The cost is $6 per person (cash or check made out to the MPA PA), to be paid ahead of time via the Lower School and Middle School offices, or on the afternoon of the dinner. Please RSVP by Friday, April 27 so they can plan on your attendance!