May 10, 2018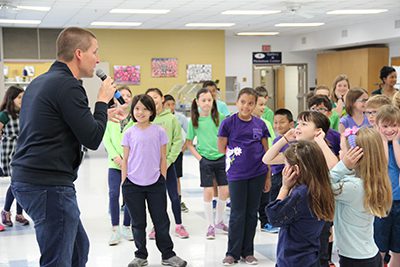 Yesterday's CHAMP assembly was yet another special and memorable morning for the MPA Lower School. Bryan Skavnak, founder of Be The Nice Kid, visited campus and told stories of doing right, having courage, and being the nice kid.
Be The Nice Kid is a community dedicated to spreading positivity and inspiring kids, parents, and educators. The root of their encouragement comes from holding each other responsible for how we treat one another. Be The Nice Kid strives to encourage students to see how kindness leads to confidence, and how to use confidence to spread positivity and happiness.
His words resonated with our Lower School community, and we were absolutely thrilled to spend the morning with him! After the assembly, we started our day feeling inspired, courageous, and full of joy. Bryan also said he can't wait to visit MPA again!
Thank you, Bryan, and Be The Nice Kid, for being another example of dreaming big and doing right for our students. And also for making sure nobody left without a high-five!
See photos from the morning at mpa.link/bethenicekid!