May 10, 2018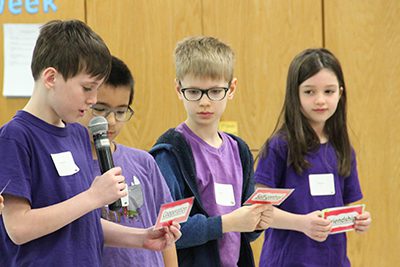 by Dr. Bill Hudson, Head of School
Monday mornings are generally a flurry of meetings at Mounds Park Academy. Both the Lower School and the Upper School begin the week with division-wide meetings intended to keep the respective community informed, share what is happening in the classroom, celebrate milestones and important achievements, and build community. Monday morning meetings also give voice to students and intentionally invite engagement into the life of the school.
The Great Schools Partnership defines student voice as the "values, opinions, beliefs, perspectives, and cultural backgrounds of individual students and groups of students in a school, and to instructional approaches and techniques that are based on student choices, interests, passions, and ambitions." Across the school and in classrooms, students have multiple opportunities to take on leadership roles and have a stake in the operations of the school. For instance, student voice is important in the hiring of classroom teachers. Teacher finalists are expected to teach a classroom lesson and students are invited to provide feedback to the hiring committee. It is also standard for students to meet candidates in a small group setting for an informal interview.
Along with discovering their voice, MPA students learn to communicate their ideas, values, and opinions effectively. Beginning in PreK and Kindergarten, students develop an ability to speak in front of their peers. Students in Lower School take turns by grade level speaking with a microphone in front of the entire Lower School, talking about what they have been learning. Eighth grade students give Character Presentations throughout the year in front of the division, and Upper School seniors give a capstone presentation reflecting on their growth over their MPA career.
One of the speakers at a recent fundraising event was MPA alum, Pondie Taylor, '02. Although I am quite biased towards MPA, I was both proud and amazed at her public speaking skills. She was articulate, passionate, persuasive, and at ease. I thought to myself, "she owns this room!" I learned later that Pondie was a member of our award-winning Speech program. MPA has 37 Speech Champions in its history, and that's the fifth-most among all Minnesota schools, regardless of school size. There is little doubt that Pondie's public speaking ability was also carefully honed by her involvement in debate and theater during her time at MPA.
An estimated 75 percent of all people experience nervousness when speaking in public. In fact, surveys have shown that most people fear public speaking more than death. Comedian Jerry Seinfeld said: "I read a thing that actually says that speaking in front of a crowd is considered the number one fear of the average person. I found that amazing–number two was death! That means to the average person, if you have to be at a funeral, you would rather be in the casket than doing the eulogy."
As the Information Age gives way to Age of Smart Machines, success will depend on doing what smart machines cannot. In other words, doubling down on what is uniquely human: higher-order critical thinking, creativity, imagination, innovation, and tasks involving high emotional engagement with other human beings. In this new world, communication becomes even more important. According to Tatiana Cary, Venture Manager, Ashoka UK, "Knowing how to speak to who, when, and where gives students not only the ability to express themselves and communicate their passion, but also makes them increasingly employable in a 21st century world where human connections and interactions are critical skills in an increasingly automated workforce."
At MPA, students discover their voice and have multiple opportunities woven throughout the curriculum to develop and nurture it. They also acquire the skills to become proficient communicators emphasized throughout their educational career at MPA. There are few things more rewarding than seeing one of our kindergarteners at ease and confident speaking from a microphone in front of the entire Lower School or a senior in command of the student body as they deliver their capstone speech.