May 24, 2018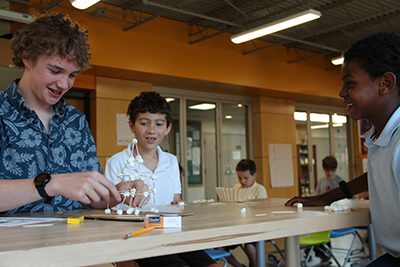 by Dr. Bill Hudson, Head of School
One of my favorite things to do is to pop into the AnnMarie Thomas Makerspace. I am continually amazed and inspired by whatever is taking place. As I look back over the last year, I see even more clearly what an incredible gift the Makerspace is to our students. Full of light and color, it conveys the joy of learning that is a cornerstone of an MPA education. Amid the whimsical playfulness, there is also serious learning happening. Lessons are taught from a variety of disciplines but share fundamental and foundational MPA values, such as hands-on, experiential learning using new and emerging, as well as traditional, technology. Students from across all grade levels and divisions have benefitted from their time in the Makerspace.
I am frequently asked by visitors, "What exactly is a Makerspace?" If the individual is of my generation or older, I may answer, "Think of it as a 21st century shop class." However, that is only the beginning of the conversation. By consciously connecting liberal arts thinking with 21st century skills and competencies, the Makerspace provides students with opportunities to construct meaning through practical, hands-on, interdisciplinary, problem-based projects. For educational researchers Michael Fullan and Geoffrey Scott, education today is "Not simply about learning 21st century skills in isolation from doing, nor is it about acquiring basic skills and knowledge out of context. Instead, it is about collaborative learning through reflection in action and on action in order to become better at negotiating the messy, fuzzy, dilemma‐ridden context of real‐world life and work with positive impact."
Lower School French teacher Liz DesLauriers recently engaged her students with a cultural unit on Paris. In the past, students made Eiffel Towers out of marshmallows and toothpicks as a fun addition to the unit, but Liz wanted to take it further this year. Thanks to the Makerspace and the help of Nicole Koen, Makerspace coordinator, she was able to create a collaborative activity appropriate for Lower School and Middle School students alike. Before coming to the Makerspace, French students studied the monuments in Paris and their significance to French culture. In the Makerspace, students learned about elements of architectural design and the design-thinking process. Combining their knowledge of French culture and newly acquired knowledge of architectural design principles, students sketched their ideas and constructed impressive monuments out of marshmallows!
Sixth grade students recently participated in an interdisciplinary project that combined their knowledge of circuits and electricity with programming and engineering. Students used Microbits, an extremely simple computer designed by the BBC for educational use. They chose a variety of different project pathways, including building their own keyboard "beatboxes" and Rock Paper Scissors games. Each project involved constructing a basic circuit using alligator clips and other materials and programming the code for the project in their tech seminar class. Students used time during their science classes in the Makerspace to construct the physical components of their games and see their code come to life with physical inputs. Testing, making mistakes, and iterating were all part of the journey. Students have been developing tremendous troubleshooting skills as they persevere and help each other through issues.
I recently came across a ninth grade science and engineering class in the Makerspace. Students were taking their knowledge of simple machines and mechanical advantage and applying the concepts to the build of a mousetrap car that they will "race" against classmates for distance. Taking advantage of basic knowledge of the miter saw, drill press, and hand drills, as well as the other tools in the shop area, students went about utilizing these tools to create cars that demonstrate their knowledge of mechanical advantage, work, power, and energy.
As I reflected on the addition of the Makerspace to our curriculum, I made a connection with an article I recently read in the Harvard Business Review that identified cognitive diversity and psychological safety as the most important traits of the best problem-solving teams. Research conducted by Allison Reynolds and David Lewis found that the groups who performed well treated their mistakes with curiosity and shared responsibility for the outcomes. "As a result, people could express themselves, their thoughts and ideas, without fear of social retribution. The environment they created through their interaction was one of psychological safety." Found at the intersection of cognitive diversity and psychological safety are generative teams that are curious, encouraging, experimental, forceful (confident), inquiring, and nurturing. Reading the article, I couldn't help but make connections with so much of the learning I've observed taking place in the Makerspace this year.
As we think about how to prepare students to "live, learn, and thrive," in the not-so-distant future, we have to somehow figure out how to use technology that hasn't been created for use in jobs that do not yet exist. Bror Saxberg, chief learning officer at the Chan Zuckerberg Initiative, said "What's most important for careers is the ability to decide and do: investigate, experiment, solve problems, compare, and communicate." Guided by our whole child educational philosophy, students at MPA are being prepared across the curriculum, not just in the Makerspace, to address the world's biggest challenges—whether social, political, economic, environmental, technological, or physical—through critical thinking, connecting through empathy, cultural literacy, communication, collaboration, and creativity.
Without question, the Makerspace has been an incredible gift to the MPA community. In many ways, it has been a window through which to see what happens daily in classrooms throughout the building. The Makerspace is new, but the pedagogy, values, and philosophy behind it have existed since our founding and are embodied by our fabulous faculty each and every day.