June 7, 2018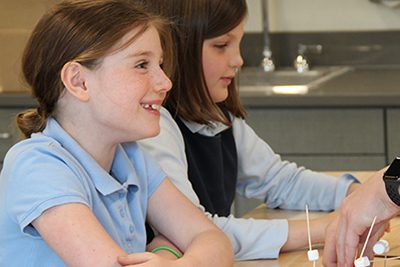 by Dr. Bill Hudson, Head of School
At the door this morning, a kindergartener excitedly showed Ms. Wright and me her wiggly tooth. "Look! I'm losing another tooth! Right next to the one I already lost!" she said as she worked the tooth back and forth with her finger. For several weeks earlier this spring, we received daily updates of the process of losing her first tooth. It is stories like this that I tell when people ask me what I love most about my job.
Losing teeth, "high water" pants, and deeper voices are all outward signs of growing students. Not as obvious are the maturity and confidence students develop over their time at MPA, whether over the course of one year, or many. I see it in the way they carry themselves in the hallways and how they perform on the stage or playing field. Nothing is more rewarding than to witness this growth and to somehow be a part of it.
Institutions grow too. Really good ones are always growing through a process of continual improvement. As I look back over the past year, I am proud the many ways MPA has grown as an institution. I think first of our new Makerspace and the wonderful way it has complimented and enhanced our existing curriculum. Clearly, it is a place that spurs curiosity and innovation.
Another area of growth has been the expansion and enhancement of our ability to support the emotional and mental health of our students this year. Ashley Cooper, our new school counselor for grades 7-11, has quickly earned the trust and confidence of students and is having an incredibly positive impact. By reducing the student to counselor ratio and proactively teaching healthy prevention and coping strategies, MPA has deepened its commitment to educating the whole child as students grow socially, mentally, and emotionally.
The faculty and staff have grown professionally throughout this school year as well. In particular, we've made a deeper commitment to equity, inclusion, and diversity. Dr. Abdul Omari, founder and CEO of AMO Enterprise and a member of the Board of Regents at the University of Minnesota, has led a series of workshops throughout the year, guiding faculty and staff in further fostering an environment and community that values multiculturalism, equity, inclusion, and justice. I am so proud of this important work.
You, as parents and guardians, have supported this growth by investing your expertise, volunteering your time, and contributing your financial resources to the school. You have also supported growth by being a partner with us in your child's education. I am continually in awe of the positive relationships that exist between you and the school and want to sincerely thank you for continuing to allow us to walk with you as they grow.
It is hard to let go of our seniors and other students, families, faculty, and staff who are moving on. However, I look back on their impact on and contributions to our school and feel a tremendous sense of gratitude.
As all of us part ways for a few months, I extend my warm wishes for a restful and relaxing summer. I hope you will enjoy time with family and look forward to coming back together in August to see the wiggly teeth, watch the growing confidence, and experience this extraordinary partnership once again.