August 28, 2018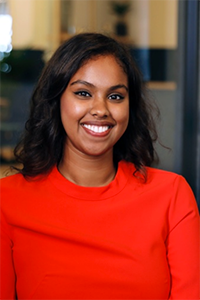 What are you currently doing, professionally and/or personally? Currently, I am a Cognitive Process Re-engineering Consultant at IBM. I work in the Financial Services sector and work to implement IBM technology services like Blockchain, Cloud and Artificial Intelligence to large commercial businesses around the world.
How did you get there? Where did you attend college? Are there some career moves or other key experiences or relationships that have inspired you? I went to American University in Washington D.C. to study International Relations with a Focus in Global Economics and a minor in Finance. Every semester and summer in College, I completed various internships to really figure out what I wanted to do career-wise. During my last year of college, I interned at Eureka Network, an inter-governmental organization funded by the European Commission that funds small technology R&D projects across Europe.
I worked as a Data Analyst for 5 months in their headquarters in Brussels and realized how many blockchain, IoT and Cloud projects were trending upwards in business, which is what initially sparked my interest in the Tech field. I started exploring opportunities in Tech and ended up getting an offer to be a Cognitive Process Re-engineering Consultant in IBM's Global Business Services group during my senior year.
How did your MPA experience prepare you for your life today? MPA really helped me to think more creatively. Having the opportunity take improv classes as an elective and create independent projects in history and science classes, giving me the foundation to have a more entrepreneurial mindset.
What's next? Any aspirations-personal or professional-that you'd like to share? I would like to get a Masters in Business Analytics. After that, my goal would be to build my own digital strategy consulting firm and work with start-ups and small companies in developing countries.
This story is part of a new series called The Year of 100 Stories, launched by the Mounds Park Academy Alumni Association in January 2018. All alumni are warmly invited to tell their story! Email alumni@moundsparkacademy.org for more information.