September 12, 2018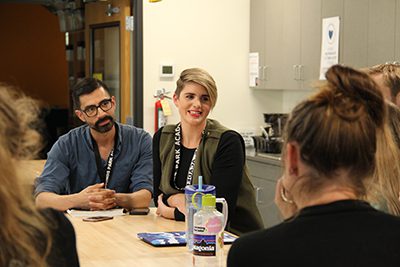 We are so excited to share a recent opportunity brought to MPA students to engage with and assist the local arts community. MPA alum Kelly Turpin '04, founder of the Arbeit Opera Theatre, was awarded the Artists Initiative Grant from the Minnesota State Arts Board to produce her own production of "The Consul," an opera that premieres on November 29 and November 30, 2018. She reached out to MPA to assist in building the set, wanting to directly involve students, since MPA is the place where her passion for art, music, theatre, and singing all began.
"The overall goal of Arbeit Opera Theatre is to fuse multiple forms of art to create a diverse artistic community in order to share the excitement of Opera Theatre with as many communities as possible. Having the MPA community and students involved (will be) be a thrilling addition to this venture," she said.
Kelly and David Radamés Toro, the director of the show, recently visited campus to meet the students, address their questions and interests, and begin discussing how the Makerspace can bring their set to life. Through technology, textiles, and woodworking, the students will be creating four set pieces, one costume, various pieces of art, and items on the 3D-printer to be used in the show. Take a look at the photos from their Meet & Greet here!
After the premiere in November at the Wellstone Center, the University of Minnesota will also produce "The Consul" in March. The struggles that refugees encounter are at the core of the production–click here for a summary of the story and to purchase your tickets!