September 24, 2018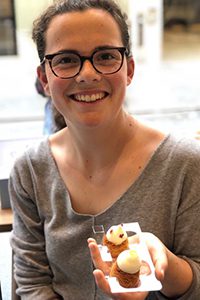 What are you currently doing, professionally and/or personally? I graduated from college last spring, and I am applying to medical school for the fall of 2019. However, I am currently spending two gap years abroad in the southern French port city of Marseille, where I'm taking full advantage of all the opportunities this city and country have to offer. I spend two days a week working as an English language assistant for a preschool and primary school, where I teach English lessons to little ones. When I'm not in the schools, I'm either in the hospital or laboratory and take part in a weekly shadowing internship with a French neonatologist. I've even started to sit in on births in the operating and delivery rooms! I also volunteer weekly at another local children's hospital, where I play board games with patients. The rest of my time is spent working in a neuroscience lab at the local university, where I will start conducting spatial navigation experiments on rats. The best part of my time in France is that I can do all of things I love in the clinical and laboratory settings all while speaking French!
How did you get there? Where did you attend college? Are there some career moves or other key experiences or relationships that have inspired you? I received my undergraduate degree from Barnard College, the women's college of Columbia University in New York City, where I majored in neuroscience and behavior and minored in French. I spent one semester abroad in France in a program that emphasized cultural integration into the community and placed me in a homestay. This experience solidified my decision to take a few years off before medical school and return to France to seek opportunities to interact with people different than myself. I am adamant that homestays are one of the best ways to learn about and live like the local population.
How did your MPA experience prepare you for your life today? My MPA experience has been an incredible motivator for my academic and professional aspirations. During my 13 years at MPA, my educators instilled in me the sense that I could achieve anything I wanted with enough work ethic, determination and passion. For instance in first grade, when I was learning to read with Mrs. Meland, in fourth grade practicing multiplication tables with Ms. Stacy, in ninth grade writing my first research paper with Ms. Shardlow, in orchestra with Ms. Glade, and on the soccer team with Mr. Scinto, to name only a few. Being able to start a foreign language in kindergarten, I see how my love of French was fostered and evolved at MPA. First by playing games and making storybooks to learn my numbers, colors and fruits, all the way to high school where I was reading excerpts of French literary works in their original form. Some of these same works I would revisit in my college French literature classes. Particularly now as an English teaching assistant, I see the classroom from the teacher's point of view. The schools I work in are under-resourced and much of the student body comes from underprivileged communities. This reminds me how incredibly lucky I was to go to a school like MPA, where I had access to so much: computer labs, theater class, individual attention from my teachers…the list could go on forever. But perhaps more importantly I'm reminded of what Ms. Conway stressed each day in her history class: our responsibility to take our MPA education and to give back to those who weren't given these opportunities. Whether this is now in French classrooms in Marseille, or later on as I pursue a career as a physician, my MPA roots of giving back will always be a guiding force.
What's next? Any aspirations-personal or professional-that you'd like to share? I am currently applying to medical schools nationwide for admission to the Class of 2023. Fingers crossed!
This story is part of a series called The Year of 100 Stories, launched by the Mounds Park Academy Alumni Association in January 2018. All alumni are warmly invited to tell their story! Email alumni@moundsparkacademy.org for more information.