September 27, 2018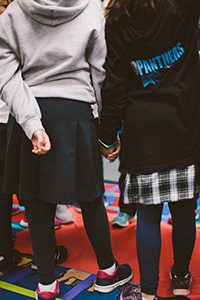 by Dr. Bill Hudson, Head of School
Parenting is tough work. It seems that in today's world, there are many more things to worry about than 25 years ago. One of those worries is school security. Despite the unlikelihood of a school shooting, the frequency and the publicity of such occurrences have parents and educators alike very concerned. The school shooting in Parkland, Florida last spring still looms large in my memory and has led to further reflection, research, and action on the part of MPA's administration regarding school safety.
Tragic as it is, it is important to note that less than one percent of violent deaths are "school associated," yet such instances do indeed feed our fears. No new threat or instance has provoked this communication or MPA's updated approach that you will read more about below, but rather it reflects our ongoing commitment to keeping our students safe.
First of all, instead of talking only about school security, I would rather focus our efforts and thinking on school safety, a larger umbrella that includes both school security and school culture. It may seem to split hairs, but there is a difference. Security refers to the practices, protocols, hardware, and other such measures and is increasingly referred to as "hard" security. School culture is the set of values and beliefs that connect people to one another. As head of school, my job is to strike the right balance between school security and school culture.
You are invited to a School Safety Roundtable discussion on Monday, October 15 from 6-7:30 PM in the Recital Hall. Members of the school administration, teachers, our school psychologist, Jules Nolan, and MPA parent James Densley, will present the MPA approach to school safety. James is a sociologist and associate professor of criminal justice at Metropolitan State University and is known nationally for his work in reducing crime and violence in society. (Update: Childcare will not be provided due to a lack of interest.)
One topic that will be covered is MPA's new approach to potential dangers in the building (e.g. threats, intruders) or external threats that may enter the building. For years, schools across the nation have taught faculty, staff, and students to respond by retreating to classrooms and offices behind locked doors with the door window covered and lights off, staying low to the ground and quiet. In fact, Minnesota requires all schools to hold five lockdown drills a year. As a result of a great deal of research and discussion, MPA has provided employees training on a new approach to how to respond in one of these situations called ALiCE.
In 2013, the US Department of Education spent considerable resources researching active shooting events. Their findings have resulted in a change in guidance that differs from the traditional lockdown process and recommends the ALiCE protocol. Following their recommendation, MPA, like many other schools, companies, and organizations, have adopted or are in the process of adopting ALiCE. More than one million people have been trained including 4,150 police departments, 4,200 K-12 schools, 1,300 healthcare organizations, and 3,055 businesses in all 50 states. Specifically, our partners at the Maplewood Police Department, are in the process of adopting it alongside MPA.
ALiCE is an acronym for Alert, Lockdown, Inform, Counter, and Evacuate. It is designed to empower people, faculty and staff in our case, to evaluate and make decisions in real time about how best to keep their students and themselves safe in the event of a threat entering the building. In such a large building, like MPA, with multiple exits, we feel it is in the best interest of our community to empower faculty and staff to make the best decision, such as evacuate, given the information they have available. PreK teacher Deb LaChapelle, Middle School teacher Marina Dale, director of guidance Randy Comfort, and athletic director Dan Haase, participated in a two-day regional training of ALiCE this summer and are guiding the implementation plan.
Implementation of ALiCE will take place over the course of this school year. It is important to know that the implementation will be age appropriate. For instance, all employees will participate in a tabletop drill to think through the ALiCE techniques the afternoon of Wednesday, October 17 when there are no students in the building (Panther Club will be off-campus for an afternoon at Pinz). This will allow adults to work on this without raising the concern of our students, especially the younger children. The balance between being prepared and causing anxiety about something that is unlikely to occur will remain central to our implementation efforts.
In my professional assessment, I have great confidence in our security measures and faith in our school community culture. In a survey last year, 85 percent of students believe that MPA is a caring community, about the benchmark for independent schools in the Midwest. Eighty four percent say that they are well known by their teachers. In another survey administered in January, 96 percent of Upper School students said their teachers offer help if they are having trouble with something. They also believe that teachers care about their personal needs in addition to their academic needs.
At MPA, we frequently describe the school community as a family. Implicitly and explicitly, our core beliefs and shared values are translated into norms of behavior expressed through patterns and actions. We are a tight-knit community. A strong school culture, coupled with clear security measures, is our best approach to providing a safe, nurturing community within which all our students live, learn, and thrive.
Note: Click here to read Dr. Hudson's message to the community on February 15, 2018, following the school shooting at Parkland.