January 11, 2018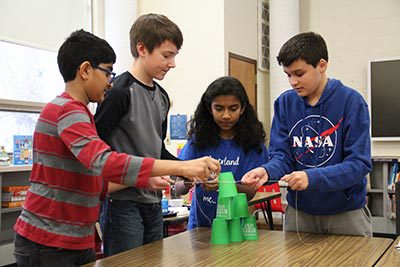 by Dr. Bill Hudson, Head of School
Today, Middle School students met in mixed-grade level groups to explore the character trait of perseverance, a core pillar of our Middle School Character Education Program. Each group collaborated to complete two separate challenges related to fostering perseverance and then processed their experience with their teachers. Learning from failure, working together, developing skills such as persistence and tenacity were all a part of the lesson, but in the spirit of MPA, there was also a lot of joyful learning taking place.
Character education is but one part of an overall Mounds Park Academy wellness program. The MPA Strategic Plan, Momentum 2020, has as its first goal, "Empower students to live, learn, and thrive in the 21st century globalized society." Academic and career success are important and MPA provides students a rigorous and relevant curriculum. But as a school committed to educating the whole child, we also understand that in order to reach one's full potential, students must also have the knowledge and skills necessary live lives of health and wholeness.
Mental illness and anxiety among young people are on the rise. For instance, by the age of 18, 15-25 percent of adolescents will have experienced a major depressive episode. We also know that suicide is the second leading cause of death for Americans ages 15-34. A recent New York Times article quoted research from the Higher Education Research Institute at UCLA that found the percentage of college freshmen reporting feeling overwhelmed rose from 18 percent in 1985 to 29 percent in 2010 and surged to 41 percent last year. These facts paint a grave picture—one that illustrates clearly how critical our work is in this area.
In my years as an educator, schools have dramatically increased the services provided to students. Research has confirmed what teachers have known for a long time: that children's emotions, behaviors, learning, and regulation are inextricably tied and cannot be considered separately. What students project outwardly is just the tip of the iceberg, and we must look below the surface to understand the complexity of our students' lives.
In response to the goal set forth in MPA's Strategic Plan mentioned above, a comprehensive and multi-dimensional wellness program is emerging here that knits together emotional, social, physical, sexual, moral/ethical, academic, and civic wellness. While MPA has done this work well for many years, the Strategic Plan called for us to be even more thorough, thoughtful, and coordinated. Wellness, as defined by the University of California, Davis, is "an active process of becoming aware of and making choices toward a healthy and fulfilling life." According to the National Wellness Institute, wellness is "a conscious, self-directed, and evolving process of achieving full potential."
The work of acknowledging and supporting students' mental and emotional health is a critical part of whole-child education. Two years ago, I created a new position, Director of Guidance, and appointed Randy Comfort to create and direct our school's wellness program. We have increased our ability to respond to our student's mental health needs with services provided by school psychologists Dr. Steven Kahn and Dr. Jules Nolan. To compliment counseling in grades PreK-6 provided by Molly Fischer, we welcomed Ashley Cooper as full-time counselor for grades 7-12, a new position established this year.
You may find it interesting that the counselor to student ratio in Minnesota is 1:743, far below the suggested ratio of 1:250. In many instances, counselors have a wide variety of responsibilities including academic advising, college planning, social-emotional guidance, and mental health support. The student-counselor ratio at MPA is significantly lower than the Minnesota average and when combined with learning support, it stands at 1:83.
In addition to increasing staff, we have made a significant commitment to the professional development of our teachers and staff to foster a safe and supportive culture. Each teacher is awarded a generous stipend to use at their discretion that supports their ongoing professional growth. In addition, the school has allocated funds for the ongoing training and education of all employees on topics that enable the school to meet the needs of our students. This year alone, workshops have been held on the awareness and prevention of suicide, of sexual abuse, of sexual assault, as well as training on equity and inclusion.
The importance of a strong school culture and climate in helping students feel safe and supported cannot be understated. Small class sizes matter. When teachers are able to create positive relational experiences in the classroom, where they convey optimism, encouragement, and belief in students' abilities, students feel accepted and understood. This in turn positively impacts academic performance.
Thank you for entrusting all of us at MPA with your children. Please know that we are attuned to their wellness every single day. We are honored to walk together with you, making certain that your children are exceptionally well prepared to live, learn, and thrive in the 21st century.