January 24, 2018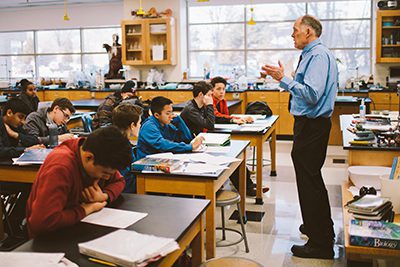 Upper School science teacher
How many years have you been at Mounds Park Academy?
Since 1991! So, 27 years.
What do you love about Mounds Park Academy?
Faculty, staff, and students who are interested in life and love learning.
How does Mounds Park Academy nurture students who forever dream big and do right?
MPA helps students learn how to become effective, efficient learners and be active citizen-scientists in the 21st century.
If you have worked at another school, how has your experience at Mounds Park Academy been different?
MPA is a true learning community. The faculty and staff work very hard to help every student learn and set high goals and standards.
What would you tell a parent considering Mounds Park Academy?
MPA is a place that focuses on the growth of the learner. It works to help people get the most out of their education and helps them to make a sound decision on their next steps after high school.
In what ways are you preparing students for life in the 21st century?
We cultivate students who are confident in their ability to learn and work well with others and are interested and invested in their community, state, and country.
What do you hope for Mounds Park Academy students in 20 years?
That they are leading the kind of exciting life that goes beyond the dreams they had when they were at MPA.
Mounds Park Academy, a PreK-12 private school in Saint Paul, is currently accepting applications for the 2018-19 school year. For more information about admission and to schedule your tour, visit moundsparkacademy.org/admission. We look forward to getting to know your family!