October 10, 2018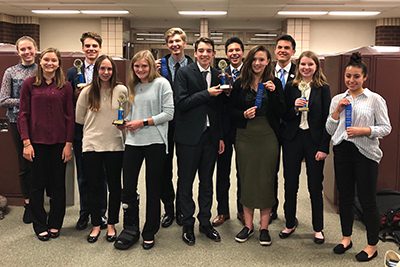 Congratulations goes out to MPA Debate! The past two weekends have been excellent for both veteran and novice members of the team.
During Homecoming weekend, 24 students participated in the competition at Eastview High School, and half of them were making their debate debuts! There were 126 teams from 15 schools that participated, and MPA left with three undefeated teams and three awards for near-perfect records! The varsity team of seniors Ellie Quam and Henry Peterson placed second with an undefeated record. The junior varsity team of sophomores Isak Dai and Ellen Vergin were the champions of 31 teams with an undefeated record. The novice team of sophomores Izzy Quam and Emma Cohen placed fifth out of 72 teams with an undefeated record as well. Three teams also won awards for 3-1 records: sophomore Hana Miller and junior Charles Grimes, sophomores Garrett Hollihan and Ryan Ghose, and sophomores Fiona Blank and Salmah Elmasry.
In Rochester last weekend, MPA's 28 debaters competed among 130 teams from 16 schools. In junior varsity, MPA had four of the top ten teams. Ryan Ghose and Garrett Hollihan, juniors Charlie Galicich and Elli Carlson, Isak Dai and Ellen Vergin, and Hana Miller and Charles Grimes. The novice teams that also won awards were Fiona Blank and Salmah Elmasry, freshmen Charlotte Bergh and Ruby Schweiger, and freshman Anika Coleman and junior Ben Lash.
Go Panthers! Keep up the amazing work!