October 11, 2018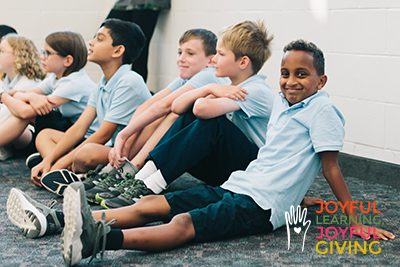 by Dr. Bill Hudson, Head of School
"Do you know the purpose of Mounds Park Academy?" asked Mr. Kevin Breen, chair of our ISACS accreditation visiting team, of several seniors.
"The purpose of the school is to develop the whole child so that we can be fully formed adults," said the first.
"And when we are more fully formed, we have the self-confidence to respect each other and value inclusivity," added a friend.
"Yes, so in a way, the most important word in the motto is 'do,' as in do things; do right," said the third. And then, after a pause, he added this: "And our teachers facilitate that. They make it easy to do right. They make volunteerism easy. They make civic engagement easy. They bring opportunities to 'do right' right to us."
The vibrant and powerful mission of Mounds Park Academy, delivered by talented and caring teachers, is having a tremendous impact on the lives of our students each day. You share in that impact by the value you place on learning, the investment you are making in the education of your children, and your commitment to and support of Mounds Park Academy.
Monday will mark the beginning of our fall campaign, "Joyful Learning, Joyful Giving." For the next five weeks, the MPA community will band together to raise the funds necessary to extend the impact and joy of an MPA education. Culminating with Give To The Max Day and the Faculty and Staff Lip Sync Assembly on November 15, our goal is to raise $300,000 to ensure joyful learning continues at MPA.
One could say that the joy of learning at MPA is dependent upon the joyful giving of parents, alumni, grandparents, friends, and alumni families. Mounds Park Academy, like all independent schools, relies on three principle sources of revenue to support its day-to-day operations: tuition, endowment, and annual gifts made by members of our community. Tuition does not cover the total cost of educating a student at Mounds Park Academy and the gap is bridged by annual giving.
Gifts made to the MPA fund during the "Joyful Learning, Joyful Giving" campaign are used exclusively to fund joyful learning:
Joy from throwing a pot in ceramics class.
Joy from singing the national anthem so beautifully at Homecoming events.
Joy from creating a squishy circuit that powers a light bulb in the Makerspace.
Joy from hard work, training, and teamwork that results in a soccer victory.
Joy from bringing to live a character on stage.
Joy from grasping the nuance of a novel, an aha moment.
The spirit of philanthropy and of joyful giving at Mounds Park Academy is vibrant. I humbly ask you to join me in increasing the impact of the MPA mission. Please know that every gift is valued and participation at whatever level feels right to your family is appreciated. You may also be interested in knowing that 100 percent of faculty and staff gave to the MPA Fund last year and I expect it will be the same again this year. We have the most caring, knowledgeable, talented teachers and staff who make joyful learning and joyful giving possible.
Look for more information in the mail, visit the MPA website, or contact the Development Office to make a gift. With your contribution, you make an impact in the lives of all those who learn, play, create, dream, and do at our school. Your gift directly impacts of the mission of MPA and the lives of our students.