October 11, 2018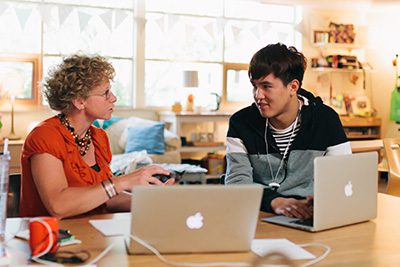 International Student Program coordinator and MPA parent
How many years have you been at MPA?
This is my fourth year.
What do you love about MPA?
The joy the students of all ages find in simply being at school, in classes and hallways, working hard and having fun!
How does MPA nurture students who forever dream big and do right?
MPA teachers and staff don't shy away from tough issues, instead posing them as discussion topics and guiding students in thinking through them critically and empathetically to arrive at a conscientious, thoughtful opinion.
If you have worked at another school, how has your experience at MPA been different?
Again, I'd have to say the amount of JOY in the building. It hit me like a ton of bricks when I came for my initial interview and continues to amaze me four years later.
What would you tell a parent considering MPA?
MPA isn't perfect—no organization is—but everyone is striving their best to be. The students, families, teachers, and staff work tirelessly everyday to become better people, broaden their minds, treat one another well, and learn how to leave a good footprint in their world.
In what ways are you preparing students for life in the 21st century?
I try to help students consider other perspectives and viewpoints with empathy, understanding, and acceptance. I also help students develop good communication skills: speaking and writing.