December 6, 2018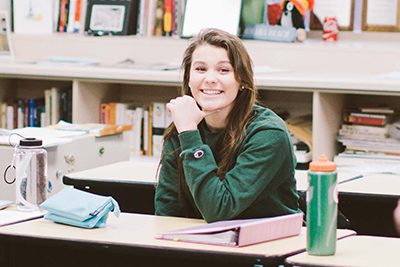 by Mark Segal, Upper School Director
Editor's Note: On the first Thursday of each month, you will find a guest blog post here from one of MPA's division directors. We hope you will enjoy reading their thoughts and reflections about life at MPA.
Hidden in a corner near the Hart Commons is a classroom that few who are not part of the Upper School are aware of. The location of the room was intentionally selected as it is quiet, out of the way, and allows for small group collaboration for the students who use it as their classroom. Together, students in the room are studying many things including:
Architecture from the ancient Egyptians into the 21st century through the philosophic idea that western civilizations have been the primary "drivers of architecture through the ages;"
Modern Standard Arabic where they are learning to read and write the Arabic alphabet and developing a proficiency in the language; and
The ethics of making decisions by focusing on medical practice, medical research and development, and health care case studies.
The aforementioned students are enrolled in interactive, synchronous courses though the Malone Schools Online Network (MSON) that bring students together with dedicated high school or college faculty from across the United States. Five years ago, Mounds Park Academy joined this wonderful collaborative of independent schools, which offers their students the opportunity to take a variety of courses beyond what normally would be available to them through the most up-to-date video conferencing technology. Building Utopia, Arabic II, and Medical Bioethics are just a few of the more than 30 courses offered through MSON.
We were fortunate to host Malone Schools Online Network Executive Director Claire Goldsmith on campus a couple of weeks ago. During her visit, she had lunch with some of the students enrolled in MSON classes, met with MPA MSON liaison Kari Kunze, and presented to the Upper School faculty. At the end of her time on campus she effusively praised MPA's partnership and shared that our students are ideal MSON classmates. You can only imagine how proud this made me feel.
At least twice a week, students attend their MSON classes. They meet in the Virtual Classroom and log onto Blue Jeans, the video conferencing system used by MSON faculty and participants. Students attend "real-time" college style seminars that bring together teachers and classmates from across the country, allowing them to span their geographical and experiential divides.
MPA senior Rayaan Ahmed shares that, "even though the class is taught over a screen, it is very interactive and genuine" when speaking about her Arabic II course. She continues, "I love being able to get a head start on what I want to study in college. MSON has given me the opportunity to expand my education with little hassle. Arabic is one of the fastest growing languages and taking it for two years now has greatly prepared me for my future studies in International Relations."
Junior Amanda Khouw, enrolled in the MSON Medical Bioethics class shares, "The class deepened my passion for the medical field because my dream is to become a doctor or a surgeon who is able to assist people (by also making use of my language skills). From this class, I was able to learn the different views of complicated situations and how one must understand the many different views in order to find a solution to the problem. By learning from the teacher and my peers' views, I am able to think differently in situations and handle them with the best intention."
What started, initially, as a collaboration of 12 schools and nine courses based on the expertise of the Stanford Online High School, the Malone Schools Online Network has grown to include more than 20 nationally-recognized independent schools and more than 30 courses that range from Organic Chemistry to Philosophy in Pop Culture. As one of the highly selective schools that received a Malone Family Foundation grant to offer this, Mounds Park Academy was invited to participate as one of the early MSON schools. The classes are open primarily to eleventh and twelfth graders who maintain a 3.7 or above grade point average as the MSON classes in which they enroll are taken above and beyond their typical MPA course load. Participation is available for upper classmen as, typically, they are at a developmental and academic place where they can communicate proactively, work independently, and manage their time effectively by balancing multiple competing factors. MSON member schools enroll their students and provide faculty to teach courses as each one features talented students and qualified faculty which ensures the highest quality program possible. As a Malone school, MPA furthers the mission of the Malone Foundation because "its small class sizes value superior curricula, peer interaction, challenge, and student-teacher relationship."
Each year more than a dozen MPA students enroll in MSON classes. They recognize that their enrollment in these courses allows them to learn varied curricula in a "rich and intensive" way that goes beyond the Advanced Placement educational program. Students pursue their academic passions through an expanded curriculum which often allows them to stand out above their peers during the college admission process and as they look ahead to their chosen career paths. Senior Adam Reinke confirms this by sharing, "Class has given me a view of just a portion of the career I want to pursue during and after college."