December 19, 2018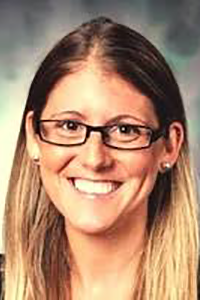 What are you currently doing, professionally and/or personally?
In December 2018 I successfully completed my Ph.D. in biomedical sciences (neuroscience specialization).
How did you get there? Where did you attend college? Are there some career moves or other key experiences or relationships that have inspired you?
I graduated from St. Olaf College in Northfield in 2006 with a psychology major and media studies concentration. That summer I attended the Denver Publishing Institute then accepted a position in textbook publishing in Seattle for two years. I became very interested in the science books I was representing, and subsequently moved back to Minnesota to pursue a career in the health care industry. I worked as a medical scribe in the emergency department while taking pre-med courses back at my alma mater (St. Olaf College). I spent two years in a middle management scribe position, helping to start- and manage new emergency department scribe programs nation-wide, then returned to my coursework. I took a research class one summer and fell in love with it. In 2013, a mentor at St. Olaf received an e-mail from my now former advisor stating she had an opening for a graduate student in her lab. I got in touch with her, her work was very similar to the research I was doing at the time, and I was quickly accepted into the Division of Basic Biomedical Sciences in the Graduate School at the University of South Dakota/Sanford School of Medicine.
My dissertation work explores the ability of a stress hormone (cortisol in humans) to act as a neurotransmitter in a part of the brain that regulates emotion and stress responses (the ventral hippocampus). I used electrochemical techniques to test the ability of cortisol in the ventral hippocampus to alter the reward neurotransmitter dopamine in a part of the brain associated with reward/incentive salience (the nucleus accumbens shell) in control conditions and in amphetamine withdrawal (in rats). Ultimately, my work has revealed a novel brain mechanism that enables stress to increase motivation and reward in healthy control conditions and to contribute to states of depression, dysphoria, and relapse in amphetamine withdrawal.
How did your MPA experience prepare you for your life today? How did MPA help you dream big and do right?
I love that research enables me to remain curious about the world and the way things work. Furthermore, research provides me with an opportunity to methodically explore these curiosities. I believe my time at Mounds Park Academy helped to foster this curiosity, a wonder and delight in learning. MPA also helped foster a sense of gratitude and appreciation for all of the gifts and opportunities that I have been given in my life (including my education). While conducting my first brain surgery in the laboratory in graduate school, I reflected back to our fetal pig dissections in Mr. Jensen's biology class at MPA. Although I was never very strong in the sciences at MPA, I LOVED Mr. Jensen's biology course. Anatomy and physiology have always been so intriguing for me, and I remember thinking, while dissection our fetal pigs, "I wish I could be a brain surgeon." I didn't think that would be possible for me, especially knowing I lacked confidence to operate on human brains. However, MPA also fostered in me an ability to pursue my dreams, and a courage to do this on my own timeline. My dream really came full circle when I found myself operating on my first rat brain four years ago in graduate school, and honestly it all began as a little seed in Mr. Jensen's biology class.
What's next? Any aspirations—personal or professional—that you'd like to share?
I will be taking a short-term position for a Medical Scribe Company where I will help to direct their online training initiatives, and am applying for assistant professor positions locally and nationally.
This story is part of a series called The Year of 100 Stories, launched by the Mounds Park Academy Alumni Association in January 2018. All alumni are warmly invited to tell their story! Email alumni@moundsparkacademy.org for more information.