March 15, 2018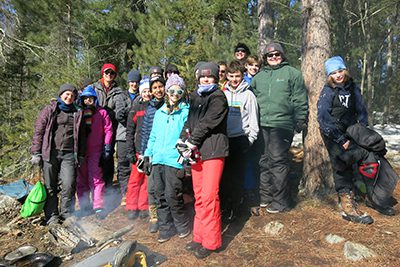 by Dr. Bill Hudson, Head of School
I am fortunate to live in a beautiful neighborhood in south Minneapolis near Minnehaha Creek and Lake Harriet. One of the things I like most about the area is the tall, towering trees that form an umbrella over the streets. They protect our house from the summer sun and fall is absolutely spectacular. I find myself expressing words of gratitude for those families who, more than 40 years ago, planted the trees that we value and enjoy today.
Like many neighborhoods in the Twin Cities, we've had a terrible problem with the Emerald Ash Boer. Many of our trees have had to be removed and it has been very sad to see these majestic trees cut down. Our neighborhood, however, has banded together and are once again populating the boulevard from new trees. They are small and scrawny and do not provide any protection or beauty. Yet, as we care for the small sapling in front of our house, I imagine what it will be like in 20 or 30 years as young children yet to be born enjoy the shade.
This month is Planned Giving Awareness Month. It may seem silly to dedicate a month to planned giving but it crucial for the future of MPA. Planned giving describes a wide variety of giving vehicles that allow donors to give to a school or charity during their lifetimes and/or after their deaths, while meeting their current income needs and providing for their heirs. Planned giving is a form of charitable giving (philanthropy) that involves contributing one's assets through wills and estate plans. A planned gift is a future gift to a school to enhance its mission and work.
Many consider estate planning to be something to be done later in life, in one's 50s or 60s. However, making a will now will provide peace of mind, knowing our family and loved ones are taken care of. No one I know likes thinking about the end of life, yet there is great comfort in the knowledge that what we care for and value most will continue as our legacy for many years in the future.
Making a planned gift is easy, and one does not have to be fabulously wealthy to make a difference. For instance, I would venture to say that 90 percent of current parents and alumni have a 401K and could easily name MPA as one of the beneficiaries. Parents of alumni and grandparents may also have assets or savings that could very simply designate the school as recipient in an estate plan. The size of the gift will vary from family to family, but the power of planned giving is the participation of those who value the MPA educational experience.
MPA is a young school with a very modest endowment of just more than six million dollars. Our endowment provides the school with a five percent return each year on average that funds important programs and services that directly benefit our current students. Older schools tend to have much larger endowments in the tens of millions of dollars as a result of years and years of planned gifts. Planned gifts are often called legacy gifts because so many are created to make an impact for future generations. I am grateful for the generosity of those who made gifts years ago so that our current students may enjoy the beautiful facilities and outstanding programs of this amazing school.
You may know that I was away from school last week, both for the National Association of Independent schools Annual Conference and to attend the funeral of a favorite uncle in Michigan. I took the opportunity to drive by the house that I grew up in and noticed the massive tree in the front yard that my father and I planted 45 years ago. I smiled, relishing the memory of my father and his gift to the current occupants of the house.
I humbly request that you consider joining Ross and I, as well as 28 other members of the MPA Legacy Society, and "plant a tree" today so that children can enjoy its shade tomorrow.
The MPA Legacy Society honors those families and individuals who have made provisions for Mounds Park Academy in their estate plans. Your generosity will provide for the school's future, ensuring that generations to come benefit from MPA's innovative, supportive, and challenging learning environment. For more information about planned giving and joining the Legacy Society, please contact Matt Magers, director of development, at mmagers@moundsparkacademy.org or 651-748-5532.