March 8, 2018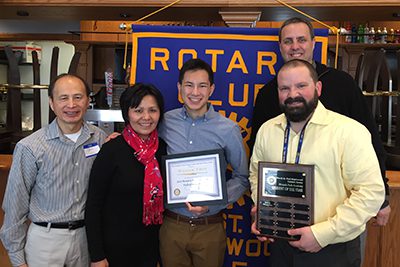 Senior William Thao was recognized at a breakfast last week as the Mounds Park Academy Student of the Year for the North St. Paul/Maplewood/Oakdale Rotary Club. William was honored with his name on a plaque in the Upper School office, a certificate, and the opportunity to apply for a Rotary Club college scholarship. His parents, Sam Thao and Mee Vang, were present and given a gift certificate to the Lake Elmo Inn as well.
In partnership with each school, the Rotary Club annually recognizes one high school student from each school within District 622. Our criteria has been based on the type and amount of service that the student has done and their overall engagement with the ideals of both Rotary Club and MPA.
Randy Comfort, director of guidance, spoke on William's behalf and introduced him to the Club. He shared that William has completed more than 100 hours of service in his career at MPA, he is an Eagle Scout, a Peer Leader, and an MPA Ambassador, and he participates in speech and debate. William selects and succeeds at very challenging courses and has had a job since he was 15. William's teachers describe him as engaged, optimistic, determined, and service oriented toward his school and the world community.
We are so proud of William and so is the Rotary! Congratulations!