May 16, 2018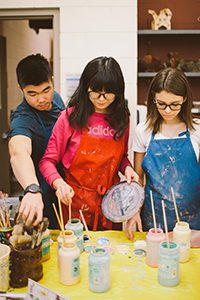 As spring arrives and the 2017-18 school year begins to wind down, we are excited to welcome at least three and up to seven new international students to MPA next year from China, South Korea, Thailand, and Vietnam!
Some of these students come to us after one year in an American public school under their belts, while others will be arriving from their home countries in August, stepping foot on our campus for the first time.
As we prepare for their arrival in August, we are looking to expand our pool of host families in order to make the best pairings and happiest homes for all.
Mounds Park Academy will actively support the student and the host family through the entire MPA experience including:
• orientation for host families and students;
• continuous support for families and students;
• quarterly activities for families and students;
• English as a second language (ESL) and academic support;
• college application and preparedness counseling; and
• a $9,000 room, board, and transportation stipend to the host family (made possible by the MPA International Program's tuition and housing fees).
So that you can get a sense of the students coming to MPA, please meet three of them.
Ruishen (Chris) Yang
Chris will be a new junior at MPA, following in his older brother's footsteps of attending high school in Minnesota. Chris is a basketball enthusiast, enjoys seeking out and collecting sneakers, and plays video games. He is currently the 10th grade Class President and head of the Sport Department at his school. Chris has done a variety of volunteering, including a trip to the Maldives as part of a cultural exchange. He is described as having a great sense of humor and incredibly kind heart. He makes friends easily and is seen as a genuinely nice person. (Country of origin: China)
Ziling (Anna) Zeng
Anna will be joining us as a junior from St. John's Prep in Collegeville, Minnesota. Anna describes herself as outgoing, friendly, and active (both in school and out). She enjoys bringing humor and happiness to any occasion and likes to lighten the mood. Anna strives to be the best student and person she can be. A couple things that drew her to MPA (aside from our stellar academic reputation) is how well our classes will fit her personal learning style and how our school rules are reasonable and appropriate. Anna believes she will develop critical and independent thinking at MPA and is excited to begin next fall! (Country of origin: China)
Shijia (Eugenia) Wang
Eugenia comes to MPA for her sophomore year from Triton High School in Massachusetts and, before that, the Peijia bilingual school in Shanghai. Eugenia has loved expanding her range of activities while studying in the United States and will continue her exploration of new things at MPA. In the past, she has been a part of her school's robotics team, musical (Zombie Prom), quiz bowl, and orchestra. Outside of school, she has studied traditional Chinese folk dance, ballet, and piano for 10 years. Eugenia describes herself as active and hardworking; her teachers describe her as mature and independent. She dreams of becoming a surgeon and loves scientific research. (Country of origin: China)
By hosting an international student, you and your family have a unique opportunity to bring the language, culture, and perspective of another country into your home, allowing for a truly rich, intercultural experience. The students will love to share their lives with you while becoming part of your family and exploring Minnesota at the same time.
There are numerous benefits in having our students stay with families in our community. Your knowledge of MPA—its daily schedule and calendar, the teachers and administrators, its culture and expectations—is invaluable in helping the students acclimate, answering their questions, and coordinating the logistics of family life. If you have the extra room in your home and in your heart for one of our international students, we would love to have you host!
If you are interested in hosting an international student for a school year or through graduation, please reach out to me at smcfarland@moundsparkacademy.org for additional information and/or to begin the application process. We would love to work with you!
Thank you for considering!
Sarah McFarland
International Student Program Coordinator
smcfarland@moundsparkacademy.org