June 6, 2018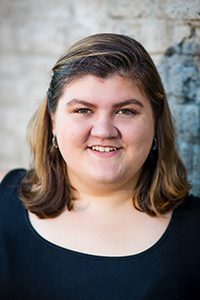 As the 2017-18 school year comes to an end, we're sharing the college choice stories of several members of the Class of 2018!
In what grade did you come to MPA? In fifth grade.
How did you come to choose the college that you did? I chose Wellesley because it valued curiosity, exploration, the empowerment of women, and educating the whole person—all things I value as well! I chose a women's college because I want to surround myself with fierce, intelligent, and dedicated women who also care about the world around us. The world is coed, so being able to go to college in a place run by and dedicated to women is a phenomenal opportunity.
What are you most excited about as you embark on your college experience? I am so excited to continue studying foreign languages! Throughout my eight years at MPA, I've studied Spanish, French, and Arabic as well as Fante during my time abroad and the prospect of being able to add another language or two to that list is thrilling. I am also looking forward to learning to call a new place home—I've done it before, and it was incredibly rewarding.
What did you appreciate most about the college counseling process at MPA? I appreciated how on top of everything everybody in the office was. Ms. Pedersen made sure everybody met every deadline they could so that nothing slipped through the cracks. I also appreciated how knowledgeable she was about a wide range of schools—having a person help you sift through lists of schools is so much better than Google!
What about your MPA experience has best prepared you for college? My teachers! Having spent nearly eight years of my life at Mounds Park Academy has taught me that our teachers are wonderful and amazing people and professionals. They give you a listening ear when you need one, and tough love when that's what you deserve. Ultimately, they have not only prepared me academically to succeed in a rigorous liberal arts college, but they have also taught me I can do anything! My teachers have been some of my most vocal champions—encouraging me to study abroad, to apply for programs and universities I didn't think I was qualified for. My teachers have shown me compassion and kindness and I know that because of them, I have years and years of a very solid educational foundation to fall back on.
What is your advice for the Class of 2030 (kindergartners)? Don't be afraid to put yourself out there! It might seem scary to draw attention to yourself or to do something that's against the grain, but I promise you will come out all the better for it. I was scared when I left to spend 10 months in Ghana, but I gained so much I wouldn't hesitate to do it again.
Insights from Ms. Pederson, Director of College Counseling: 
My work with Kate is a great example of how my job is never dull! Since she studied in Ghana for her sophomore year through a State Department program, we thought carefully about how each of us could share with colleges the impact and enrichment of her experiences there—in addition to all she accomplished at MPA. Kate wrote a compelling college essay during our unit in Junior Seminar, focusing on how she grew in self-confidence (and only incidentally mentioning that along the way that she survived both typhoid and being hit by a bus!). While she received admission offers from a variety of coed and women's colleges, I wasn't surprised that Kate chose a women's college, where I'm confident she'll continue to blaze a trail of even more new experiences for herself.
The 51 seniors in the class are going to 30 different universities and colleges in 18 states, including Washington D.C.! Learn more about MPA's College Counseling program here! >