January 9, 2019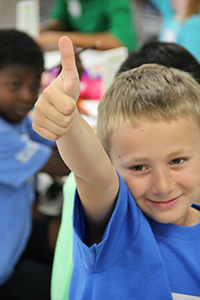 What do you love about MPA?
My favorite part of MPA is playing with friends, especially in phy. ed. class. Mr. Sheehan is my teacher and he is always nice. He's just a fun person. I also love math because I use my whole brain and I work together with my friends.
How do you dream big and do right at MPA?
Dream big and do right means being nice to my friends. I make sure to give (my best friend) a hug every morning when I see him, and he gives me a hug.

What would you tell a friend considering MPA?
MPA is a very fun place because you have everything you need. You have friends, you have a really good hot lunch, you have a big playground, you have lots of books in the library. The library is a place I really like because I love books, especially books about football. I also really like Ms. Espeland's music class and Ms. Mastel's drama class. I really can't pick which of those I like best because I like them both so much. 

How is MPA helping you prepare for the future?
MPA is teaching me how to be a good friend. Two years ago, when I was new, I walked into kindergarten and I saw my two best friends. I'm learning to be a good friend with them.

What do you want to be when you're older?
I love sports so I want to be a football player first, and then a soccer player. After that, I want to open my own hotel somewhere cool.
Mounds Park Academy, a PreK-12 private school in Saint Paul, is currently accepting applications for the 2019-20 school year. For more information about admission, upcoming events, or to schedule your tour, visit moundsparkacademy.org/admission. We look forward to getting to know your family!