March 14, 2019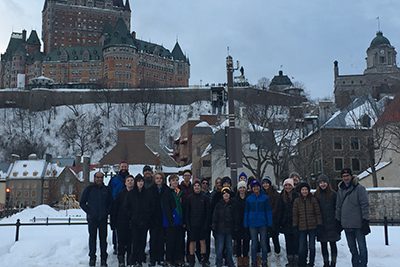 by Dr. Bill Hudson, Head of School
For most Middle School students, this week is their favorite time of the school year. It is i-Term, a signature MPA program that offers students an intensive learning experience in a single class that aligns with their interests and fuels their passion for learning. For some, it primarily means a week without homework and without grades. For all, this inquiry-based, experiential learning experience reflects a core attribute of an MPA education that has been with us since our founding 37 years ago.
Inquiry-based learning, project-based learning, and service-learning are relatively new terms in the educational world and seem to be in vogue as schools look for creative and innovative ways to more fully engage students in learning. The Nellie Mae Education Foundation defines project-based learning as "an instructional approach that addresses core content through relevant, hands-on learning—challenging students to solve 'real world- problems." According to the Center for Teaching and Learning at the University of Washington, "Service-learning refers to learning that actively involves students in a wide range of experiences, which often benefit others and the community, while also advancing the goals of a given curriculum."
For me, these "new" approaches all speak to the same fundamental aspect of learning by doing. Confucius, Socrates, John Dewey, and Maria Montessori have in common the theoretical roots of learning by doing. The founders of MPA crafted a unique pedagogy that encapsulated these theories of learning in a very practical way which has been refined and enhanced throughout the history of the school.
This past Saturday, I made a visit to Kowalski's Market in Stillwater. Our kindergarten students were in the midst of the culminating experience of a very unique project-based, service-learning unit. Over the course of the last several months, kindergarten students have been doing extra chores around their homes. The money they earned was brought to school and used to learn how to count and to identify coins. On Saturday, they gathered at Kowalski's to shop using a budget based on the money they had earned to purchase items to donate to a local food shelf. What a joy it was to witness the eagerness and earnestness of these young students, sprawled on the floor of the aisles recording their selections and using calculators to make sure they were within budget.
The kindergarten project is just one manifestation our pedagogy and spans the breadth of our curriculum across grade levels and divisions. A month or so ago I sat in on a Middle School parent education session led by seniors in the Contemporary Women Writers English class. The students were putting into practice what they have learned their studies and research to educate parents on human trafficking and cyberbullying using social media. In addition to traditional reading and writing assignments such as analytical essays and research papers, a significant part of the course includes developing a plan for a service-learning project based on the design thinking process.
Rather than the latest educational fads or buzzwords, our unique "whole-child for whole-life" pedagogy, brought to life by our incredible faculty, inspires students to think differently about learning. While mastering core academic content, the MPA pedagogy fosters critical thinking, problem solving, collaboration, creativity, all essential 21st century skills. Each day this week, my daughter Ari has talked my ear off on the ride home (instead of buried in her iPhone with earphones) sharing with me the excitement of her i-Term Animal Science course and the visits to the Minnesota and Como Zoos. As an educator, I can read between the lines and see how her knowledge of the biological, physical, and social sciences is deepening. As I parent, I enjoy sharing in her joyfulness. She may not realize it now, but Ari is being inspired, engaged, challenged, taking increasing responsibility for her learning, and on the path to discovering her place in the world.
Mounds Park Academy, a PreK-12 private school in Saint Paul, is currently accepting applications for the 2019-20 school year. For more information about admission and to schedule your tour, visit moundsparkacademy.org/admission. We look forward to getting to know your family!