March 19, 2019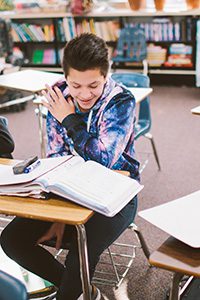 What do you love about MPA?
Waking up every morning excited about what I'm doing that day, whether it be a fun activity during class, play rehearsal, or a school dance.
How are you encouraged to dream big and do right at MPA?
I am encouraged to dream big and do right through everything MPA offers. My extracurriculars allow me to explore anything and everything I set my mind to. The volunteer work I have been doing on campaigns and for organizations I believe in continue to inspire me to do right for my peers and my community.
What would you tell a family considering MPA?
If you have a child that loves to learn and wants to explore their environment, MPA allows your child to do that in a supportive and understanding environment.
In what ways has MPA prepared you for life?
I'm prepared for life because MPA provides the tools for me to build an understanding of the world around me, and how I fit into that world and how I can contribute to it.
What do you dream for yourself in 20 years? 
Leading and working in a marketing position while maintaining my love of the performing arts.
Is there anything else you'd like to share about your MPA experience?
As an MPA lifer, I have seen this school change dramatically from when I started in 2008. From this, I know two things for sure: every year MPA becomes an even better school and I become an even better person.
Mounds Park Academy, a PreK-12 private school in Saint Paul, is currently accepting applications for the 2019-20 school year. For more information about admission and to schedule your tour, visit moundsparkacademy.org/admission. We look forward to getting to know your family!