March 19, 2019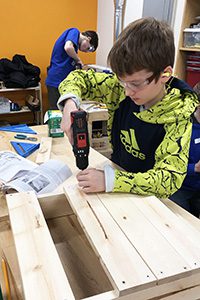 "Look what I made in the workshop!" and "I'm excited to design my own project!" will be regular phrases said by students who take Ms. Koen's Beginning Carpentry enrichment course this summer. In Nuts and Bolts: Beginning Carpentry, students will learn how to safely use the tools and materials in the Makerspace, while creating a game or toy of their choice.
Students in grades 1-4 will start the week by using the scroll saw to create a wooden toy, while students in grades 5-8 will build a step stool, bird house, or tool box. Both age levels will have the opportunity to design and bring an idea to life.
The Lower School class is June 17-21 from 9 AM to 12 PM, and the Middle School class is June 17-21 from 1 PM to 4 PM. Space is limited, so visit moundsparkacademy.org/summer to sign up to secure your spot today!