April 1, 2019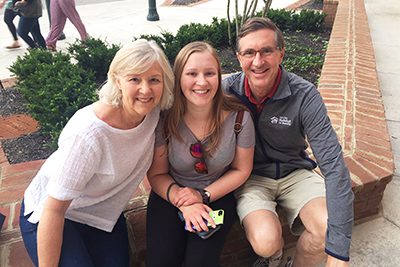 There are freethinkers, free spirits, risk takers, right makers, dreamers, and doers who are standing up to support Together, We Dream. Here is one story that explains why. Meet Karla and Peter Myers, parents of alumni.
Why do you believe it is important to give to both Together, We Dream AND the annual MPA Fund, as you would in other years?
We want MPA to continue offering the excellent educational opportunities and engaging learning environment that helped our kids become such well-informed and well-rounded young adults.
Why do you choose to give to Together, We Dream even though your children have graduated?
We have all benefited from the bold families who invested in MPA 20+ years ago, making it possible for our kids to attend an outstanding school. We want to pay it forward so that future families will have the same opportunities.
How do you see the four priorities (library, commons, cafeteria and kitchen, endowment, and outdoor track) of Together, We Dream impacting the student experience?
We want MPA to remain competitive with other schools. Even though MPA has outstanding faculty and programs, it's important that the facilities provide an environment that is conducive to today's learning styles. The current library, kitchen, and cafeteria are woefully out of date and do not support the way kids learn, study, and interact today.
What is your dream for the future of MPA and how do you see Together, We Dream working toward your dream?
We'd like to see increased enrollment that will provide additional financial resources and ensure a large enough student body to support multiple sports teams, music and theater programs, all of which require a certain critical mass to be effective. We're particularly eager to enroll more high-potential students from diverse racial and financial backgrounds; this will require more scholarship funding to be available.
Is there anything else you'd like to share about your MPA experience?
We're grateful for the education and character development that MPA provided our family for the past 22 years.
Honor where we've been. Power our way forward. Make a gift at moundsparkacademy.org/donate/together.