April 2, 2019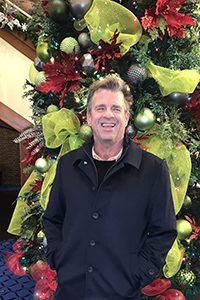 There are freethinkers, free spirits, risk takers, right makers, dreamers, and doers who are standing up to support Together, We Dream. Here is one story that explains why. Meet Kevin Hart, parent of alumni.
What impact do you see the completion of Together, We Dream: The Campaign for MPA having on your family?
I see it fulfilling a promise to donors to finish what was started. Capital campaigns don't always follow a punctual time line, but in this case, exploring and exhausting all options is critical for current and future MPA students & families!
Why do you believe it is important to give to both Together, We Dream AND the annual fund (MPA Fund), as you would in other years?
As a parent, all we can do is provide the best education and opportunities for our children. MPA fit this criteria with small class sizes, professional, caring teachers and staff in an optimal setting, which are costs above tuition that are associated with the educational environment we, as parents, want and that MPA delivers.
Why do you choose to give to Together, We Dream even though your children have graduated?
I want to see Together, We Dream campaign completed so current and future MPA students and families can be beneficiaries.
How do you see the four priorities (library, cafeteria and kitchen, endowment, and outdoor track) of Together, We Dream impacting the student experience?
The cafeteria and library should be most favorably impacted by students given their current situations. Endowment is the "hidden gem" within any organization or entity that helps insure a future buffer in challenging times. Specific to MPA, it's the bridge between tuition and the real cost of an MPA education all parents should want!
What is your dream for the future of MPA and how do you see Together, We Dream working toward your dream?
My hopes are current and future MPA families can experience the reality my kids experienced as the MPA campus was transformed and the learning environment enhanced with the completion of an earlier campaign. At the end of the day, we want to look back and say I did all I could for my kids' education in preparation for college and beyond.
Is there anything else you'd like to share about your MPA experience?
Enjoy the MPA experience in real time! When it ends, the relationships may endure, but the experience itself can only be recaptured in memories!
Honor where we've been. Power our way forward. Make a gift at moundsparkacademy.org/donate/together.