April 2, 2019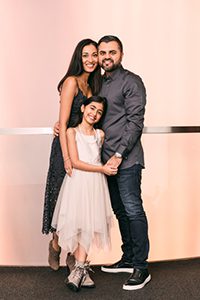 There are freethinkers, free spirits, risk takers, right makers, dreamers, and doers who are standing up to support Together, We Dream. Here is one story that explains why. Meet Ankita and Amit Bhalla, current MPA parents. 
What impact do you see the completion of Together, We Dream: The Campaign for MPA having on your family?
A better and more enhanced facility greatly affects the health, behavior, engagement, learning and growth in achievement of our children, and so the impact of this campaign on our daughter is vital.
Why do you believe it is important to give to Together, We Dream?
It is important to us not only for the reasons above, but also to ensure we focus on the need for our daughter to grow and learn 21st century skills such as teamwork, effective communication, and collaboration with her teachers and school mates. Contributing enables the improvement of the facility to facilitate these skills and needs.
How do you see the four priorities (library, commons, cafeteria and kitchen, endowment, and outdoor track) of Together, We Dream impacting the student experience?
These priorities are hugely impactful as they positively relate to our daughters development, engagement and achievement.
What is your dream for the future of MPA and how do you see Together, We Dream working toward your dream?
Our dream aligns very closely with the MPA vision to "dream big and do right". It is important for us that our daughter is able to live this vision and able to have the capabilities and opportunities that allow her to do so.
Is there anything else you'd like to share about your MPA experience?
We have loved our experience at MPA thus far. For our daughter to indicate without a doubt that she will never leave the school is a testament to her experience and in turn, ours. There is always room for improvement and we appreciate the opportunity to be able to be involved as parents and to grow together.
Honor where we've been. Power our way forward. Make a gift at moundsparkacademy.org/donate/together.