April 4, 2019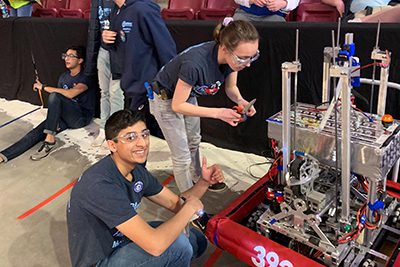 This past weekend the Robotics Team, MPArors, competed in the MN FIRST (For Inspiration and Recognition of Science and Technology) Regional Robotics Competition! The team placed second overall out of 60 teams, and will be moving onto the FIRST Championship in Detroit at the end of April, where there will be teams participating from all over the world.
They had a wonderful group of fans who stayed throughout the day to watch, among which was Sarah McFarland, MPA parent and international student program coordinator. "There were so may wonderful things to see and experience such as watching the team learn and grow from their mistakes, seeing the students in action working together toward a common goals, hearing the pride in mentors' voices and seeing the sparkle in their eyes," she shared.
Some MPA alumni and founding team members were also in attendance, cheering on the MPArors and offering their support. Among the MPA alumni present was Sirid Kellermann '88. Sirid was a FIRST FRC Judge Advisor, whose job it is to coordinate the 30-judge team and ensure they are able to do their jobs successfully. "The MPArors truly reflected the 'gracious professionalism' spirit of FIRST Robotics," said Sirid, "FIRST is about so much more than building a quality robot that performs well in competition. It's also about the agile problem-solving, teamwork, and collaboration with other teams for the benefit of all. The MPArors can be proud of being a well-rounded team that checks all of these boxes. I encourage them to build on their success and strive even higher in the coming years—I'll be there cheering them on again next spring!"
Congrats, MPArors! The MPA community and Coach Shapiro are so proud of you!